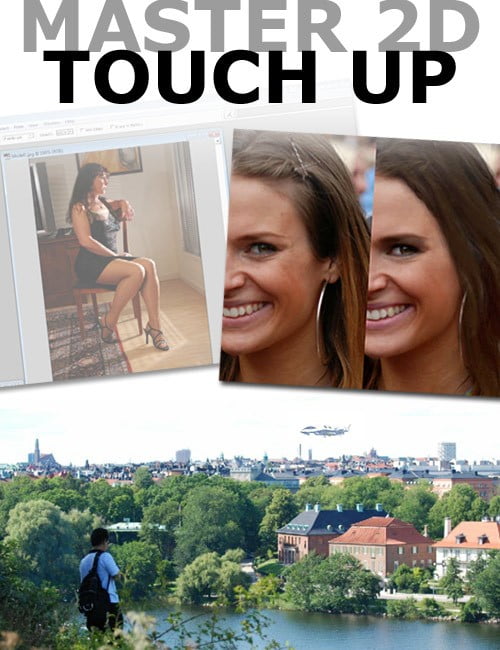 ---
From simple touch up, mastering all the tools, to fog, sun, rain effects, matching 2D / 3D, re-sculpting the human body, digital make up, hair, beautiful text, logos and more?
Go from never seeing a 2D software to mastering touch up and creating stunning visual effects in no time.
Compatible Software: Training conducted in Photoshop, with complete references to The Gimp. Most of the training is purely generic, and the techniques portrayed can be adopted to any 2D software with layer capability.
Master training program:
MODULE 1: THE BASICS

01.00 – Module 1 And Training Overview
01.01 – Basic Concepts
01.02 – Basic Tools
01.03 – More Basic Tools
01.04 – A Quick Look At Photoshop vs. The Gimp
01.05 – Final Thoughts

MODULE 2: BASIC EFFECTS

02.00 – Module 2 Overview
02.01 – Basic Photo Touch Up
02.02 – Basic 3D Image Touch Up
02.03 – Adding Glow Effects
02.04 – Re-Sculpting The Focal Point
02.05 – Fog And Smoke Effects
02.06 – Adding Noise
02.07 – Faking Depth Of Field

MODULE 3: ADVANCED EFFECTS

03.00 – Module 3 Overview
03.01 – Matching 2D and 3D Graphics – Car With Layers
03.02 – Matching 2D and 3D Graphics – Ufo And Female Character
03.03 – Adding And Matching 2D Items
03.04 – Re-sculpting The Human Body
03.05 – Adding Make Up
03.06 – Changing Hair
03.07 – Changing Clothes
03.08 – Painting Light & Shadow Effects

MODULE 4: MORE COOL EFFECTS

04.00 – Module 4 Overview
04.01 – Creating Rain
04.02 – Creating Sun Rays
04.03 – Creating Skies
04.04 – Changing Backgrounds
04.05 – Creating Motion Effects
04.06 – Adding Text
04.07 – Creating Beautiful Logos
04.08 – Final Thoughts

Bonus – Creating Tile-able Textures For 3D Graphics
---
Download from QtyFiles Service
---