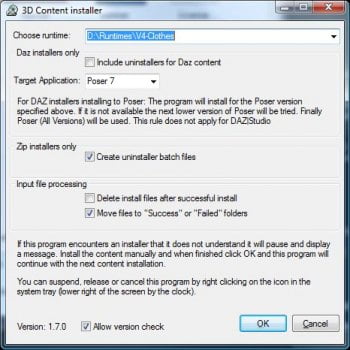 This product automates the installation of both Daz|Studio instllation files (.EXEs) and standard formatted zip files (containing a "runtime" folder and associated subfolders) such as sold through Renderosity.
The program can install from one to many hundreds of files in one session. It produces a log file of actions taken and optionally deletes the installation files (after warning you to make sure they are a COPY of your originals) or it will move them to a folder named "success" or "failed".
In addition the program will create a log file for each zip file installed which can be used by a companion program (included) called UninstZip to uninstall the files which came from that zip file.

---