---
3D Letters Wizard
Introducing the first product by RiverSoft Art and Son! Easily and quickly generate 3D text messages using 3D Letters Wizard! 3D Letters Wizard is a complete solution for adding fully 3D text messages to your Daz Studio scenes.
It includes 3 fonts with over 90 characters each and an extremely easy-to-use script for generating 3D text just by typing your message.
3D Letters Wizard allows you to quickly create 3D text messages as easily as typing into a text box. Just type your message, and 3D Letters Wizard will generate a perfectly formatted message using 3D characters instantly.
3D Letters Wizard provides a wealth of text editing features for your 3D letters, including text case, justification, font color, line spacing, and character spacing.
The script will even allow you to choose from any 3D letters font installed in Daz Studio!
Create fully 3D text messages in your scene that can be moved, scaled, and textured
Includes 3 different fonts with over 90 characters (uppercase, lowercase, numbers, and special characters) each: Sans Serif font, Serif font, and Gothic font
3D Letters Wizard Script: Create 3D text just by typing!
3D Letters Wizard Color Script: Change the color or apply shaders to your entire 3D text message in one step
Note:3D Letters Wizard can only use fonts and font styles (i.e., no italics, underlines, etc.) that come with 3D Letters Wizard. It cannot use system fonts or font styles.
3D Letters Wizard: (.DUF .DSE)
Scripts:
3D Letters Wizard
3D Letters Wizard Color
3D Letters Wizard Install Custom Actions
Props:
San Serif Font:
Uppercase Letters, A-Z
Lowercase Letters, a-z
Numbers, 0-9
Special Characters, !@#$%^&*()_+-=[]{}/?.,;:'"<>|\~`
Serif Font:
Uppercase Letters, A-Z
Lowercase Letters, a-z
Numbers, 0-9
Special Characters, !@#$%^&*()_+-=[]{}/?.,;:'"<>|\~`
Gothic Font:
Uppercase Letters, A-Z
Lowercase Letters, a-z
Numbers, 0-9
Special Characters, !@#$%^&*()_+-=[]{}/?.,;:'"<>|\~`
Detailed User Manual (.PDF)
---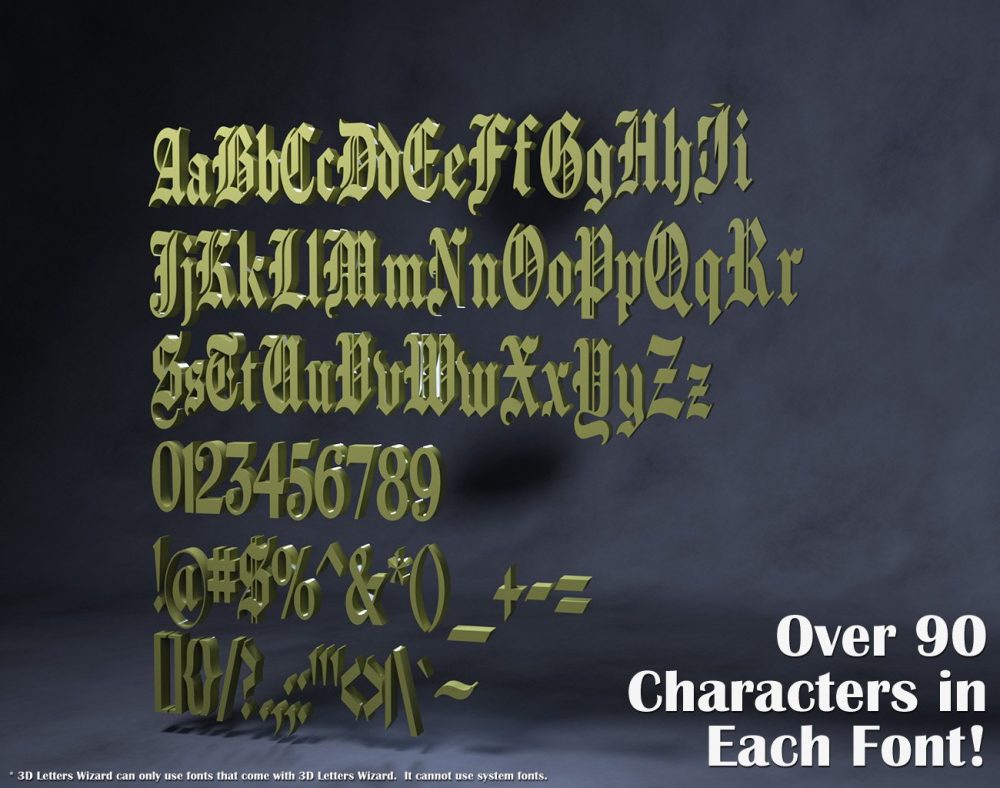 Download from QtyFiles Service
---