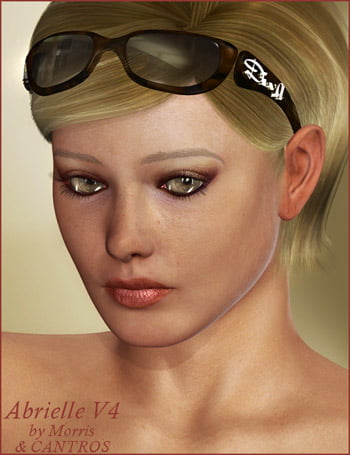 Abrielle is a gorgeous photorealistic texture package for Victoria 4!
Ultra detailed, right down to her fingerprints! Included is the light set I used for the store renders.
There is a lot going on with this package, full of extras to increase your rendering fun!
The default head map has the eyebrows as part of the texture map, but I did include an extra head map WITHOUT eyebrows and a transmap for eyebrows. Also included are a few MAT poses to change the eyebrow colors. You will need to make the Eyebrow geometry visible to utilize these MAT poses. In the preview pane, under Body Parts, select eyeBrow, then in the parameters dial make sure the 'Visible' box has a check mark in it.
Included is an interesting new way to apply make-up, rather then multiple make-up maps that just take up a lot of room and have a limited range to choose from, I used the Poser6 blender node. So with just one default natural head map, two make-up files and a few make-up masks (trans maps for make-up), I was able to include 10 Make-up MAT poses! But really by going in adjusting the color in the 'input2' value of the blender node, the sky is the limit! Have fun going from barely there subtle make-up to dark and wild!
I also added a MAT pose to give the ears a blushing effect. Under certain lighting, especially bright back lighting, in real life ears would take on a redish tone. In post production of many of my renders I would go and add a redish tint to the ears to add more realism. I found a way to add this effect directly in the render so no need to add it in post work! You can go from no blushing effect to a big blushing effect by adjusting the color in the 'input2' value of the blender node.
Oh, and last but not least, included are four second skin maps and matching Displacement maps to make the cloth pop from the skin!
Note: When using the blender node for make-up and blushing effect of ears, the changes won't appear in the preview window but will appear in the Material Room and when rendered!
Poser 6-7 only!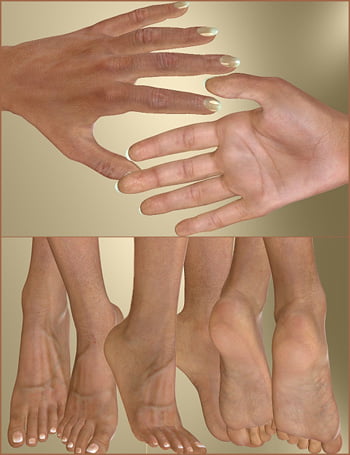 Download from QtyFiles Service
---