AK Graceful Buns Hair for Genesis 9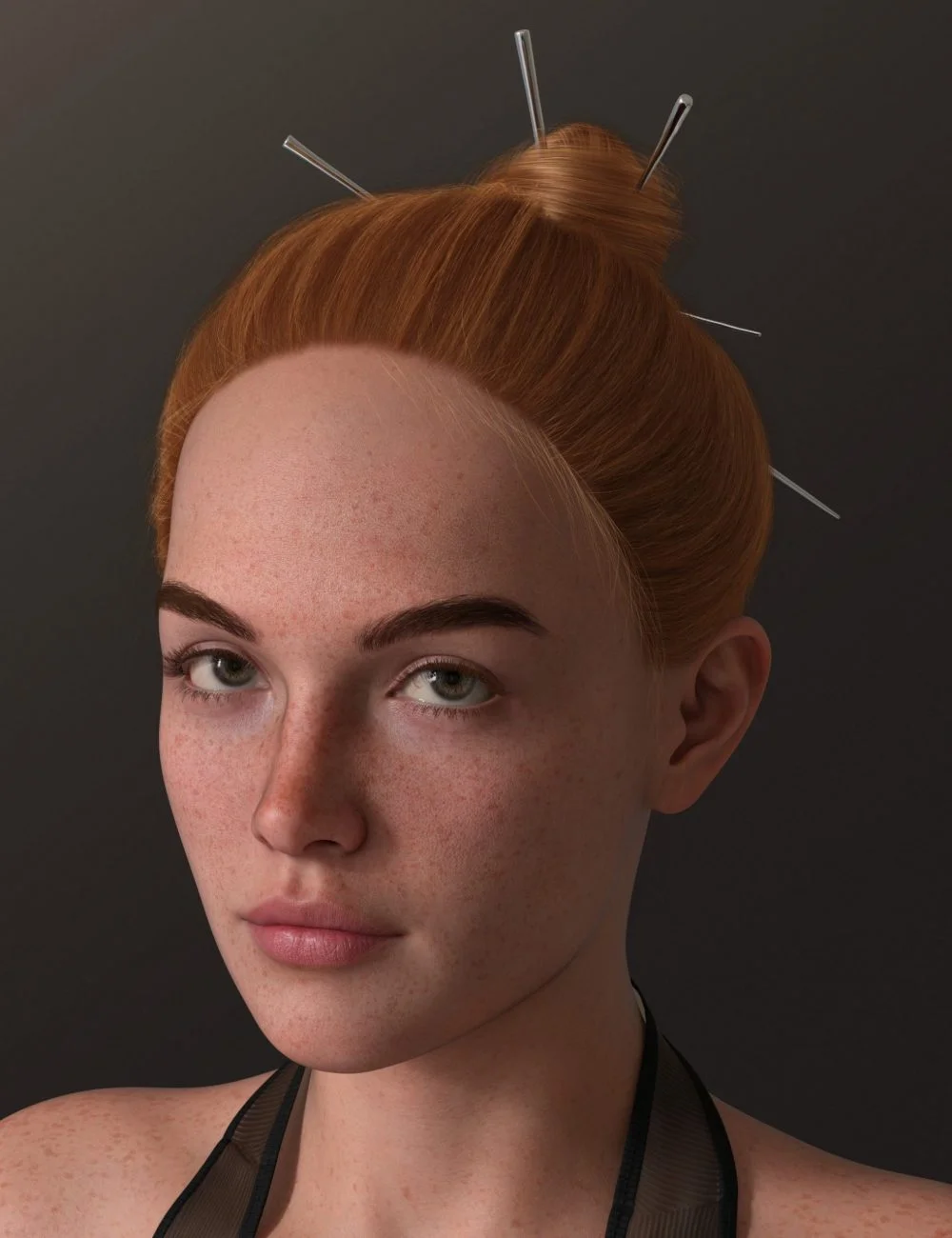 ---
AK Graceful Buns Hair for Genesis 9
AK Graceful Buns Hair is a hairstyle that fits easily for Genesis 9.
It has 35 preset color choices and blends colors.
There are 4 variations on this hairpin, and each can be controlled individually.
The hairstyle fits both feminine and masculine versions of Genesis 9.
All options are optimized for Daz Studio Iray.
AK Graceful Buns Hair for Genesis 9:(.DUF)
Hairpin for Genesis 9
Expand All
AK Graceful Buns Hair for Genesis 9:
Adjust Cheek Left
Adjust Cheek Right
Adjust Ear Left
Adjust Ear Right
Adjust Forehead Depth
Adjust Forehead Height
Adjust Forehead Width
Adjust Head Size
Adjust Head Size X
Adjust Head Size Y
Adjust Head Size Z
Adjust Head Top
AK Graceful Buns Hair Hairpin for Genesis 9:
Hairpin Length
Hairpin Length Part 01
Hairpin Length Part 02
Hairpin Length Part 03
Hairpin Length Part 04
Hairpin Style 01
Hairpin Style 01 Part 01
Hairpin Style 01 Part 02
Hairpin Style 01 Part 03
Hairpin Style 01 Part 04
Hairpin Style 02
Hairpin Style 02 Part 01
Hairpin Style 02 Part 02
Hairpin Style 02 Part 03
Hairpin Style 02 Part 04
Hairpin Wide
Hairpin Wide Part 01
Hairpin Wide Part 02
Hairpin Wide Part 03
Hairpin Wide Part 04
Supported Shapes:
Genesis 9 Base
Genesis 9 Base Feminine
Genesis 9 Base Masculine
Angela 9
Freja 9
Ivar 9
Victoria 9
Other Shapes may be supported in Daz Studio by Auto-follow
Materials:
Base Default
Color 01 Medium Brown
Color 02 Dark Blonde
Color 03 Dark Brown
Color 04 Brown
Color 05 Medium Red
Color 06 Light Brown
Color 07 Redbrown
Color 08 Golden Blonde
Color 09 Black
Color 10 Brown
Color 11 Light Blonde
Color 12 Ash Blonde
Color 13 Dark Red
Color 14 Light Red
Color 15 Light Ash Blonde
Color 16 Dark Violet
Color 17 Light Violet
Color 18 Ash Brown
Color 19 Ash Red
Color 20 Light Grey
Color 21 Dark Grey
Color 22 Dark Natural Red
Color 23 Natural Red
Color 24 Light Pink
Color 25 Light Purple
Color 26 Light Blue
Color 27 Light Green
Color 28 Purple
Color 29 Red-Pink
Color 30 Green
Color 31 Carrot
Color 32 Natural Red
Color 33 Red
Color 34 Redbrown
Color 35 Strong Red
!Hair Blending OFF
!Hair Blending ON
Blending 01 Medium Brown
Blending 02 Dark Blonde
Blending 03 Dark Brown
Blending 04 Brown
Blending 05 Medium Red
Blending 06 Light Brown
Blending 07 Redbrown
Blending 08 Golden Blonde
Blending 09 Black
Blending 10 Brown
Blending 11 Light Blonde
Blending 12 Ash Blonde
Blending 13 Dark Red
Blending 14 Light Red
Blending 15 Light Ash Blonde
Blending 16 Dark Violet
Blending 17 Light Violet
Blending 18 Ash Brown
Blending 19 Ash Red
Blending 20 Light Grey
Blending 21 Dark Grey
Blending 22 Dark Natural Red
Blending 23 Natural Red
Blending 24 Light Pink
Blending 25 Light Purple
Blending 26 Light Blue
Blending 27 Light Green
Blending 28 Purple
Blending 29 Red-Pink
Blending 30 Green
Blending 31 Carrot
Blending 32 Natural Red
Blending 33 Red
Blending 34 Redbrown
Blending 35 Strong Red
Mask 01
Mask 02
Mask 03
Mask 04
Hairpin Cupreous
Hairpin Silvery
Textures Include:
185 Texture, Bump, Displacement, Normal, Reflection, Specular, and Transparency Maps (16 x 16 to 4096 x 4096)
Daz Studio Iray Material Presets (.DUF)
---
Download from QtyFiles Service
---