Allied Fleets Outpost- Poser OBJ 3DS MAX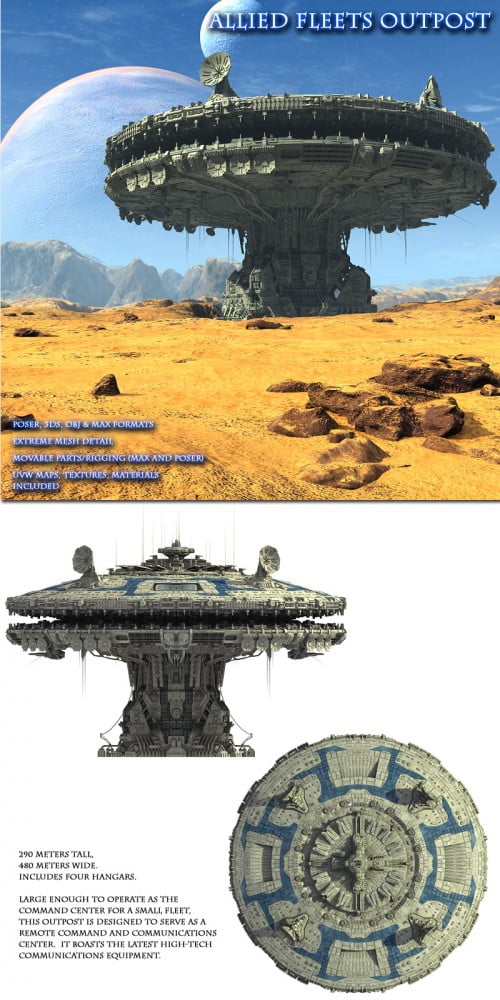 This is a highly detailed 3D (OBJ format) model of a science-fiction ground base/space station.
The high detail level serves two purposes: communicate a sense of scale and allow for realistic closeups.
This Allied Fleets outpost design is unique in the sense that it can be installed in a zero-gravity environment or on a planetary surface. This flexibility makes it a very commonly used design.
Large enough to operate as the command center for a small fleet, this outpost is designed to serve as a remote command and communications center. It boasts the latest high-tech communications equipment. While its defense usually comes from nearby ships and the fighters assigned to it, it is armed well enough to hold its own while reinforcements are called in.
The model is designed to be 290 meters tall and 480 meters wide. It features four hangars as well as balconies with railings.
The objects are grouped according to detail level and all objects have UVW mapping coordinates. Textures are included. It is easy to change the color scheme of the ship by modifying the texture bitmaps.
The OBJ format provides compatibility with just about every 3D software package but is limited in the fact that there are no lighting or effect options – those must be recreated after importing the model.
The 3DS MAX and Poser formats include all lighting and effects. The MAX version was used to create the product images.
The main guns can be rotated and elevated in the 3DS, Max and Poser versions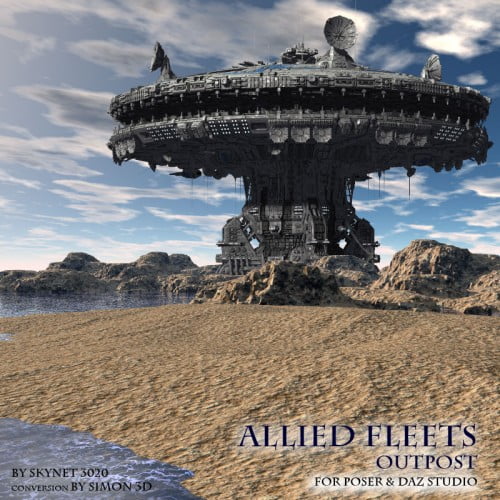 http://www.renderosity.com/mod/bcs/allied-fleets-outpost–poser-obj-3ds-max/86665
---