Anatomically Correct: Jenna for Genesis 3 and Genesis 8 Female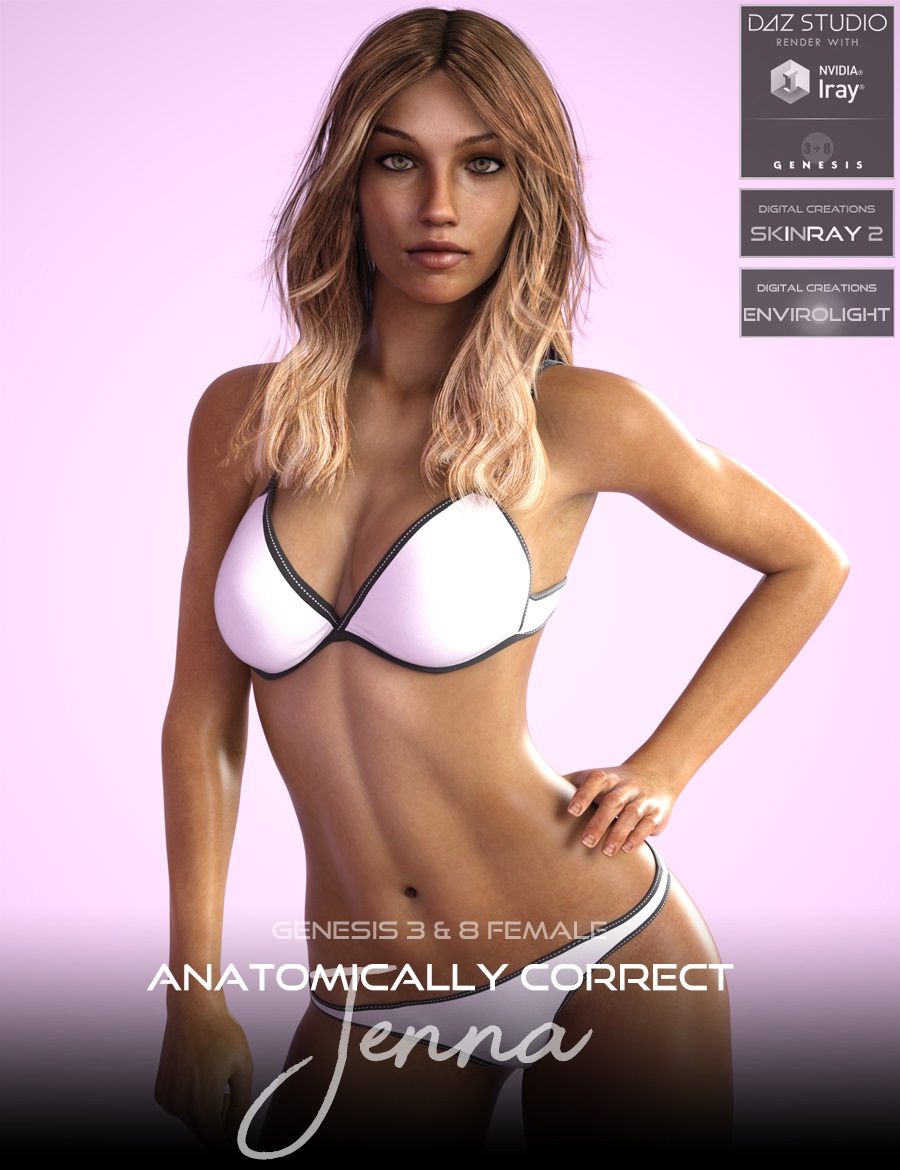 ---
Anatomically Correct: Jenna for Genesis 3 and Genesis 8 Female
A COMPLETE PHOTOREALISTIC AND ANATOMICALLY CORRECT CUSTOM CHARACTER PACKAGE FOR GENESIS 3 AND GENESIS 8 FEMALE OUR MOST ADVANCED AND FEATURE-RICH ADDITION TO THE ANATOMICALLY CORRECT SERIES SO FAR!
*NEW* ENVIROLIGHT HDR LIGHTING *NEW*
This pack includes:
– A complete highly detailed photorealistic skin texture set for Genesis 3 and Genesis 8 Female created from real life reference photographs (including high definition texture maps, advanced bump maps, advanced specular maps)
– 3 makeup options and natural option
– 3 eye colour options
– Now the popular Anatomically Correct realism is already built in to the textures and shader presets! No more extra work or complicated tutorials to follow!
– Highly detailed genital displacement maps and settings for perfect Anatomically Correct detail
– Options for turning genital displacement on or off for all shaders
– Advanced photorealistic one click Iray shader presets for Genesis 3 and Genesis 8 Female
created using the Anagenessis 2 skin shader tool (not required to use this character)
– Advanced one click 3Delight shader presets for Genesis 3 and Genesis 8 Female
– As well as all of the shader options from our previous character packages, this package now also features our brand new one click skInRAY 2 Iray shader presets for Genesis 3 Female and Genesis 8 Female and a link for customers to download all future improvements and updates of skInRAY 2
– Unique hand sculpted custom head and body morphs for Genesis 3 and Genesis 8 Female created from real life photo references
– One click character presets for Genesis 3 and Genesis 8 Female
– All elements of the character package can either be used together or separately
---
---