Ancient Stones – Rock'n'Roll and Moss Shaders
---
⟣ Ancient Stones – Rock'n'Roll and Moss Shaders ⟢
Pick up this great bundle of over 75 Ancient Stones with Rock'n'Roll and Moss shader pre-sets, and gather all of the moss you want for your digital boulders, stones, walls, building blocks, statues, and just about anything else you care to turn to stone.
From granite to tufa, basalt to layered sandstone and schist — this huge bundle of layered shaders for Daz Studio and Iray has got you covered in moss and lichen in any number of combinations! In fact, there are over 1500 different possible combinations of these realistic rock shaders and their mossy covers!
Based on the 4-layer uber PBR MDL shader that ships with Daz Studio, this is a must-have set of shaders for anyone who wants some realistic, moss-covered, lichen-sprinkled goodness in their scenes!
The set comes with loads of utility pre-sets for displacement intensity, subdivision ( this can really make a difference with low poly models), tiling ratios, rock tints, and many different settings for the 3 layers of moss and lichen that you can cover the base rocks with!
When you add the shaders onto your object, you may wonder what is happening, until you use the Iray viewport, where the magic happens before your very eyes. Due to the nature of the layered shader, changes you make to tiling and any other mapping do not become apparent until Iray is used, thus it's a handy tip to add the shader, turn on your Iray preview, and then make the adjustments to scale, displacement, etc.
Included is a quick usage guide with a link in the utility's menu so that you can get the best from these awesome rock and moss shaders! Also, check out What's Included and Features for more detail.
So whether you want to turn Michael 8.1 to stone or simply want a weathered look for a prop or building, these shaders have you covered — in mossy goodness!
---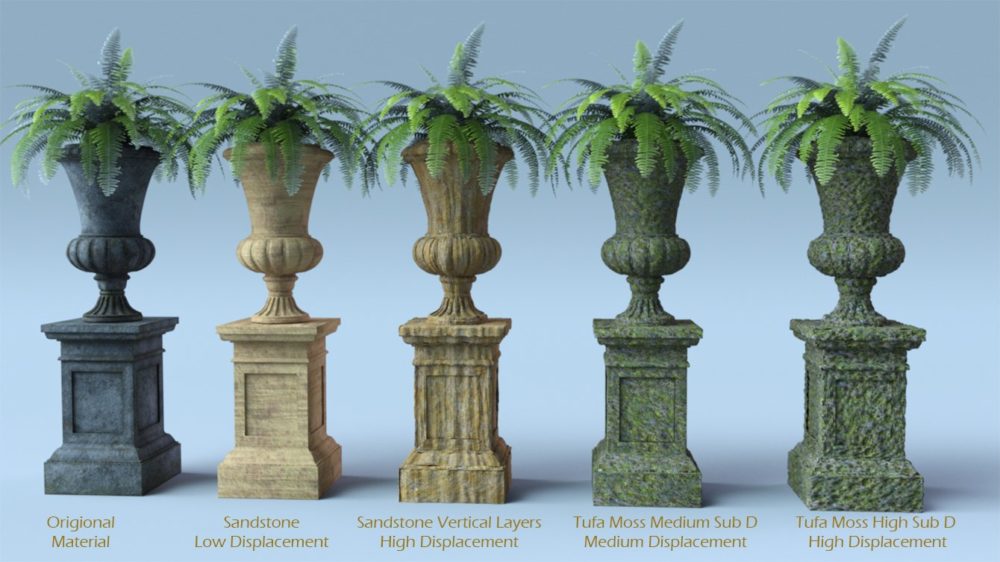 ---