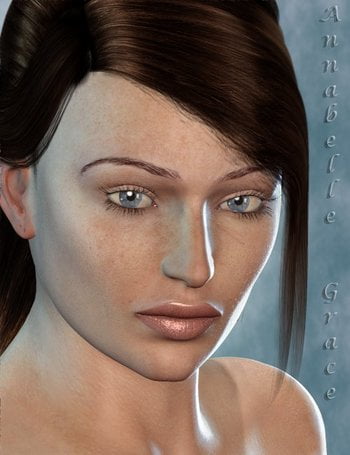 Annabelle Grace is a gorgeous photo realistic texture package for Victoria 4! Ultra detailed, right down to her fingerprints! Included is the light set I used for the store renders.
There is a lot going on with this package, full of extras to increase your rendering fun! Included is an interesting new way to apply make-up; rather then multiple make-up maps that just take up a lot of room and have a limited range to choose from, I used the Poser 6 blender node. With just one default natural head map, two make-up files and a few make-up masks (trans maps for make-up), I was able to include 10 Make-up MAT poses! By adjusting the color in the 'input2' value of the blender node, the sky is the limit! Have fun going from 'barely there' subtle make-up to dark and wild!
I also included three second skins, again using the blender node. Therefore you could plug any of your favorite Victoria 4 textures into the 'Color Texture' node and give them new clothes.
I also added a MAT pose to give the ears a blushing effect. In real life, under certain lighting conditions, especially bright backlighting, ears take on a reddish tone. In post production for many of my renders, I would add a reddish tint to the ears for more realism. I found a way to add this effect directly in the render so no need to add it in post work! You can go from no blushing effect to a big blushing effect by adjusting the color in the 'input2' value of the blender node.
Last but not least, I've included an extra body map with tan lines!
Note: This product is Poser only. When using the blender node for Make-up, blushing effect of ears and the second skins, the changes won't appear in the preview window but will appear in the Material Room and when rendered.

Download from QtyFiles Service
---