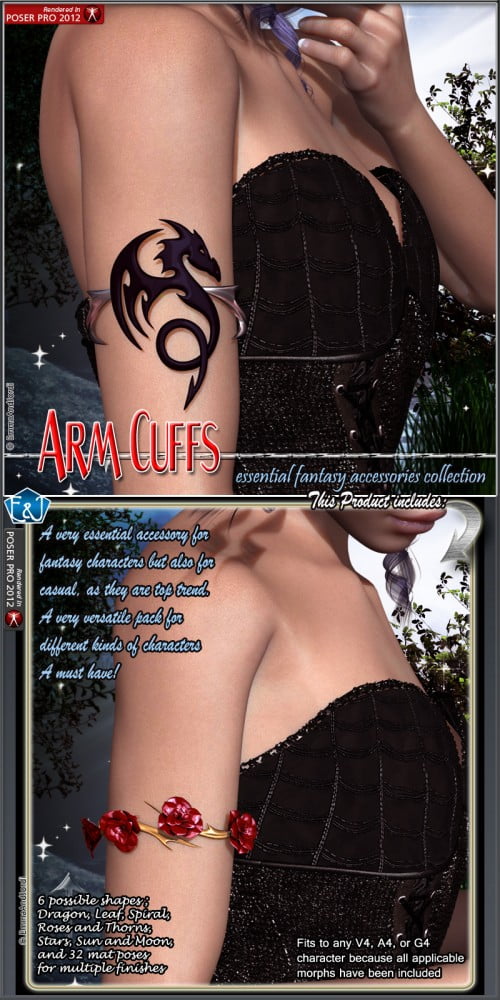 A very essential accessory for fantasy characters but also for casual, as they are top trend. A very versatile pack for different kinds of characters. A must have!
6 posible shapes with multiple finishes each one, use in one or both arms. Use them for warriors, elves, fairies,casual, gothic, rock…
This Pack includes:
– Independent left and right Arm Cuffs for V4/A4/G4
– You can put then on one or both arms
– Fits to any V4, A4, or G4 character because all applicable morphs have been included
– They automatically adjust to your characters, but you can still dial the morphs if you need it
– Just select an arm cuff and apply a mat pose to get the shape and look you like
– 6 possible shapes and 32 mat poses for multiple finishes:
– Dragon: The mightiest mythical creature, a sign of power and bravery, mounted on a silver or gold spiked arm ring. The dragon has been all carefully modeled in 3D with details of eyes and nose holes, and realistically curved around the arm, and comes in 4 finishes: gold, silver, black and red
– Leaf: A sculpted leave that loops around the arm, a sign of what is natural and free, of the creatures of the forests. It comes in 4 finishes: gold, silver, green leaf, and brown leaf
– Roses And Thorns: From the tears that are dropped with pain, pleasure and passion, was born the most romantic and gothic classic, a branch of gold or silver metal with thorns. From the purest and the boldest stabbed hearts bloomed four roses of black, blue, pink, red, silver or gold petals. You can use the thorns with or without the roses
– Spiral: A very versatile yet complex double swirl arm cuff with mounted jewels, in silver or gold. The jewels come in green, red, blue or pink. You can use this cuff with or without jewels if you wish
– Stars: Quite versatile, you can use this one for casual themed renders as well as for fantasy creatures, as it fits perfectly in a very varied range of scenarios. A comet trail looped around the arm, and leaves the shine of six sparkling stars behind. The stars are in blue, pink or turquoise, and the band in silver or gold
– Sun And Moon: Threaded filigree design in gold or silver, and jewels of sun and moon in three finishes: moons in scratched relief with tiger's eye stone, celtic sun and moons, or moons in blue enamel with sun with yellow topaz. All the filigree, sun and moon details are modeled in 3D. You can use the band with the filigree with or without the jewels, if you prefer
– Render settings and instructions in JPG to enter them for Poser and Daz Studio
Poser 6 and up, or DS3 and up.
This item is for DAZ's Victoria 4, and works too for Aiko 4 and The Girl 4
PC Compatible. Not tested in Mac.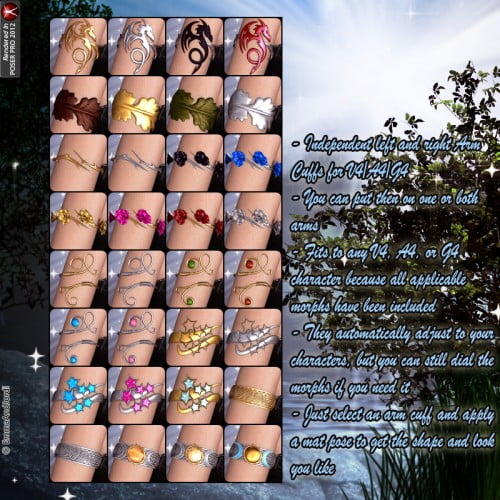 ---