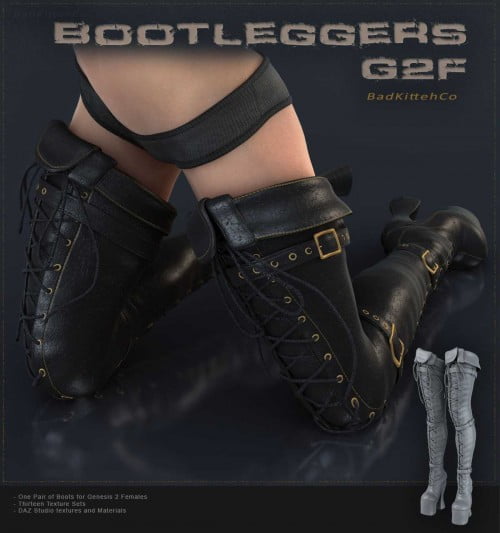 During 3D Thursday's at Renderosity you can save an extra 10% on the HOTTEST NEW RELEASES to hit the Renderosity Marketplace. We're offering a 10% coupon 3DThurs0828B10P10that is good for the products found with this message ONLY. This code will not work with any other MarketPlace products. Coupon good through 11:59pm on Sunday, August 31st 2014.
Genesis 2 Females version of our legendary Bootleggers boots. Add a little Bad Kitteh to your G2.
Same UV's as the V4 version – this means you can use original V4 bootleggers texture expansion packs on G2 version.
13 texture sets (see detailed images)
MORPHS:
Adjustment::
* ADJ_LT_Bottom
* ADJ_LT_Middle
* ADJ_LT_Top
* JCMLshinXrot+120
* JCMLThySS+85
* JCMLThySS-15
Genesis 2F Morphs (Morphs where morph follower gives satisfactory results have been omitted)"
* FBMAiko6
* FBMBodybuilderSize
* FBMBodyTone
* FBMEmaciated
* FBMFitnessSize
* FBMGiaBody
* FBMGirl6
* FBMHeavy
* FBMStephanie6
* FBMThin
* FBMVictoria4Body
* FBMVictoria6Body
Styling:
* STYBowSmaller
* STYBowSwingFwd
* STYBowSwingLR
* STYDropOnTheFloor
* STYLowerHeel
* STYNoBottomStrap
* STYNoLaceBow
* STYNoMiddleStrap
* STYNoStraps
* STYNoTopStrap
* STYStrapEndsCurl
* STYTongueCurlUp001
* STYTongueCurlUp002
* STYTopLower/Rise
* STYWear
---