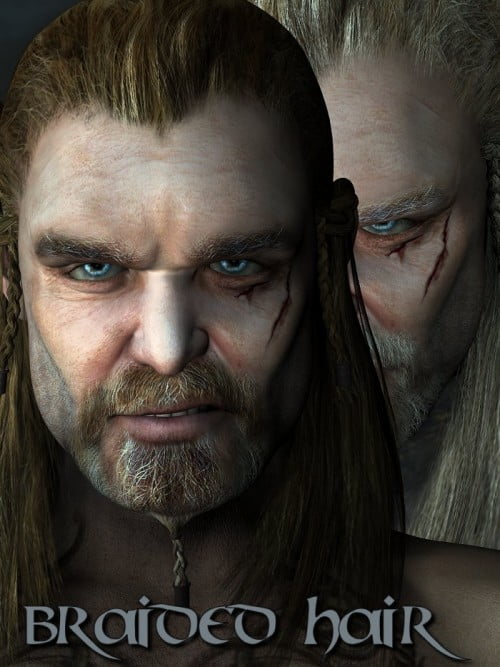 Well then The Braided Hair isn't for your guy, we've styled it around the weather damaged and dragged through a hedge look of a real man, out in the fields battling their dreaded foes,or on the sea's inbetween places,these boys simply just wash and go…no conditioner or de-tangler products used here..
Created using photorealistic textures of a model with lovely long hair,we've tried for real colour combinations and use of straggly unbrushed hair to give a more realistic thick unkept look, exactly what any man waging war against the shiny folks would have.
This conforming Hair figure contains adjustment and fit morphs,to suit almost any male character face,even though it was created around our Rolf Viking Character pack,to match in with his facial hair and Braided Beard Figure, this hair is THE most versatile for all your dark,gothic,grungy,realistic guys
You ask why….?
Well…Because your Michael 4 is worth it…..
A realisticly textured hair for your more realistic guys and renders, textured using real hair models, for a more unkept untidy out in the fields,blowing your head off in the wind look,just perfect for any well respected Viking,Warrior,Celt,Elf all round good ol' M4 man..
This hair is designed around our Viking release theme and our Rolf character set,whom comes complete with 6 variants of facial hair colourings and braided beards that compliment the Braided Hair textures perfectly,giving you a much more real combination match of texture..
The hair also features movement aswell as adjustment morphs,creating some very natural styles,and is very easy to use,the dials are all labeled clearly in tidy folders making it much more simple controlling the parts of the hair you require..
| Required: | Link to post: |
| --- | --- |
| Michael 4 | https://3d-stuff.community/catalog/ps_bn176-michael-4-pro-bundle/ |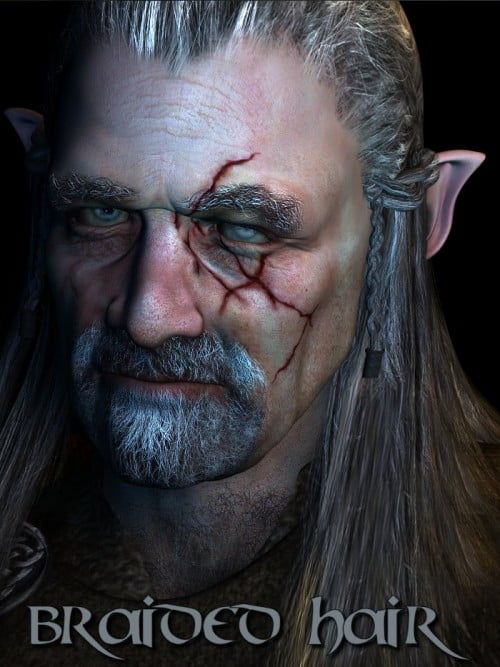 ---