3D Model Master 2 – Go Pro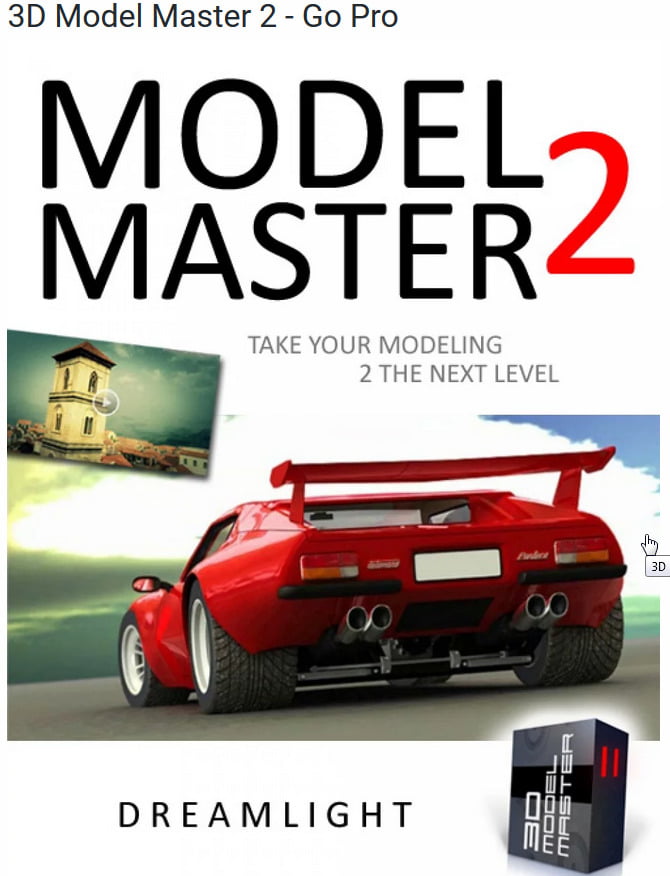 ---
3D Model Master 2 – Go Pro
Already into 3D software modeling and want to take it to the next level? Whether you're modeling for fun or already a vendor, you will benefit immediately from these professional modeling, UV-mapping and texturing techniques.
This package includes Generic 3D modeling techniques, showcased in Ligthwave, with additional techniques in Z-Brush, DAZ Studio, Poser, Photoshop and Adobe Illustrator.
With bestselling DAZ 3D vendor, 3D coach and mentor, Val cameron a.k.a. Waldemar B. from Dreamlight, and professional 3D modeler and animator Jason White from 2Create. Modules include Making of La Piazza, Modeling a Dragon Head, Painting Stunning Details in Z-Brush, Super Fast Modeling and Texturing a High Resolution Mountain Range, Super Texture Enhancer, Car Modeling, Space Craft Modeling, UV Mapping and Texturing, Stonemason's Texturing Secrets, Modeling and Texturing Victorian Furniture and a bonus module!
What's Included and Features
Take your 3D modeling to a PRO level
Master advanced modeling, UV-mapping and texturing techniques
Suitable whether you model for fun, or if you're a vendor and want to take your models to the next level
Generic video tutorials, focusing on Ligthwave, with special effects in Z-Brush, Poser, DAZ Studio, Photoshop and Adobe Illustrator
MODULE 1: MAKING OF LA PIAZZA
Jason White dives straight behind the scenes of this huge and highly successful DAZ Studio and Poser 3D model
01.01 – La Piazza Part 1 – Overview And Getting Started
01.02 – La Piazza Part 2 – Modeling And UV-Mapping
01.03 – La Piazza Part 3 – Advanced Modeling And UV-Mapping – Pillars
01.04 – La Piazza Part 4 – Advanced Modeling And UV-Mapping – Tower
MODULE 2: MODELING A DRAGON HEAD
Jason White takes you step by step using a generic approach, from photos to a final model of dragon head using Lightwave
02.01 – Dragon Head – Part 1
02.02 – Dragon Head – Part 2
02.03 – Dragon Head – Part 3
MODULE 3: PAINTING STUNNING DETAILS IN Z-BRUSH
Painting geometry details directly on 3D models is what Z-Brush is excellent at, and Jason White from 2Create shows you how you can do it with ease
03.01 – Painting Stunning Details On Dragon Head / Buildings In Z-Brush – Part 1
03.02 – Painting Stunning Details On Dragon Head / Buildings In Z-Brush – Part 2
MODULE 4: SUPER FAST MODELING AND TEXTURING A HIGH RESOLUTION MOUNTAIN RANGE
Val Cameron first showcases the limitation of displacement mapping as far as geometry creation, and then dives straight into simple box modeling that quickly turns into a beautiful high resolution mountain range. The model is then textured inside Photoshop and everything is brought into DAZ Studio for final tweaks
04.01 – Modeling And Texturing A High Rez Mountain Range, Quickly And Easily And Making It Look Great In DAZ Studio
MODULE 5: SUPER TEXTURE ENHANCER
Ambient Occlusion is the darkness that occurs on parts of props where overall lighting cannot reach. Jason White from 2Create showcases how to render an occlusion pass in Lightwave / Poser and how to apply the occlusion map to a DAZ Studio prop for immediate better look and more details
05.01 – Rendering Occlussion Maps In Lightwave / Poser And Adding Them To DAZ Studio Props For Immediate Better Look And More Detail
MODULE 6: CAR MODELING
Pro 3D modeler Jason White from 2Create showcases a special technique he used when modeling his amazingly detailed Pantera De Tomaso car model using Lightwave
06.01 – How To Create Beautiful Body Of A Car – Pt 1
06.02 – How To Create Beautiful Body Of A Car – Pt 2
06.03 – How To Model A Detailed Car Tyre In Lightwave
MODULE 7: SPACE CRAFT MODELING
Pro 3D modeler Jason White from 2Create showcases his approach to designing and modeling a space craft using Ligthwave and generic techniques
07.01 – Modeling A Space Craft – Part 1
07.02 – Modeling A Space Craft – Part 2
07.03 – Modeling A Space Craft – Part 3
MODULE 8: SPACE CRAFT UV-MAPPING & TEXTURING
Pro 3D modeler Jason White from 2Create uses Lightwave to create UV maps for the space craft from previous module
08.01 – UV-Mapping A Space Craft
08.02 – Making Occlusion Maps
08.03 – Painting Dirt
08.04 – Adding Texture Details
MODULE 9: STONEMASON'S TEXTURING SECRETS
Pro 3D modeler Jason White from 2Create, follows along Stonemason's great free PDF, and showcases some amazing texturing techniques
09.01 – Stonemason's Texturing Secrets – Part 1
09.02 – Stonemason's Texturing Secrets – Part 2
MODULE 10: MODELING & TEXTURING VICTORIAN FURNITURE
Pro 3D modeler Jason White from 2Create, takes you behind the scenes of DAZ 3D bestselling 2 Create / Dreamlight co-up, Steam Punk Hide Away, and shows you exactly how the Victorian style furniture were designed
10.01 – The Victorian Style
BONUS MODULE: A LOOK AT TOP MODELERS AND THEIR APPROACH
Bonus 1 – Stonemason (Bestselling DAZ 3D Vendor)
Bonus 2 – Jack Tomalin (Bestselling DAZ 3D vendor)
Bonus 3 – Keith Burlison (Modeler behind some models on Doom 3 / 4)
---
---