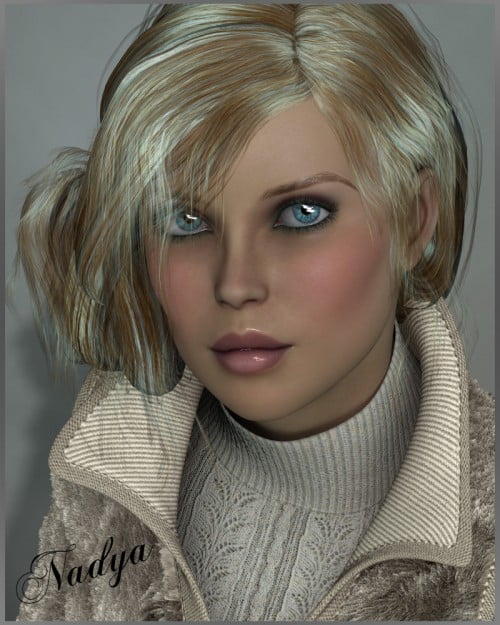 Nadya consists of a custom head morph, custom square nail morph & a custom genital
morph. These will work on the base Victoria 4.2 and do not require any additional morph
products. You may inject these as you choose to customize your character.
You will only need to have morphs++ if you wish to use Nadya's body shape options. These
are true injection & removal files, you will NOT need to pre-inject morphs++
* Individual Customizing
All lipshades apply separately so that you may mix 'n match her makeup styles.
Eyeshadows are provided in a soft as well as a more dramatic liner option .
To further customize Nadya you have MAT poses to remove or add tears as well as 3 eye
reflections; no reflection, a basic reflection and a "face" eye reflection. 2 eyelash options
are provided in 2 shades each.
Adding to Nadya's versatility is her shape options: Apply her morphs++ body shape, add
the nipples or not as you choose, apply her custom genital morph or adjust nail lengths &
choose regular or squared.
There is also an included "smaller pupil" option.
* Included
The following is a list of included items
Basics:
? Nadya Head INJ & REM [custom morph]
? Nadya Body INJ & REM
? Nadya Nipple INJ & REM
? Custom Genitals INJ & REM
? Square Nails INJ & REM
? Nail Default Length
? Nail Longer
? IK Removal Pose
? Eyes Fix Pose
? Smaller Pupils INJ & REM
MATS for Poser 7+ & SSS include:
? 01 Full Skin
? 07 Makeups in soft & liner
? 07 Lip Shades in Matte & Glossy
? 07 Eye Shades
? 03 Eye Reflections
? Tears Off
? Tears On
? 02 Lash Maps in 2 colours = 4 Lash Options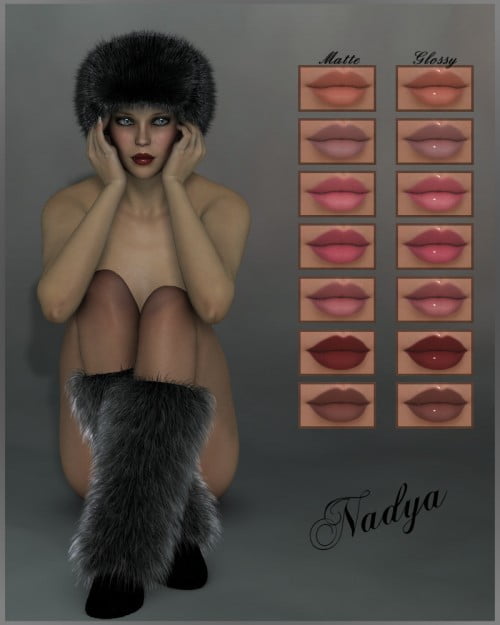 ---