5TEASE PinUp Vol 4: Paintergirl – Poses and Props for V4 & G2F
5TEASE PinUp Vol 4: Paintergirl – Poses and Props for V4 and V6 / Genesis 2 Female
It's time to get the girls creative. These paintergirls either paint the art of their dreams or want a new fresh look to their rooms.
Art and crafts have never looked so sexy!
The 20 highly detailed poses have been created around the included 16 high quality props and come with matching prop poses.
All poses are included in their mirrored version too.
Poses come in versions for Victoria 4 and Victoria 6 (Genesis 2 Female) with all content available for Poser and DAZ Studio.
We hope you like this set, thank you very much for viewing.
——————————————————–
What you get with this package:
——————————————————–
06 Brush Figure Props (.cr2)
01 Paint Can Big Figure Prop (.cr2)
01 Paint Can Small Figure Prop (.cr2)
01 Easel with Canvas Figure Prop (.cr2)
01 Ladder Figure Prop (.cr2)
02 Palette Figure Props (.cr2)
01 Paintroller Long Figure Prop (.cr2)
01 Paintroller Figure Prop (.cr2)
01 Seat (.cr2)
01 Stool (.cr2)
20 Poses for Victoria 4 (.pz2)
20 Poses Mirrors for Victoria 4 (.pz2)
+ matching poses for props (.pz2)
20 Poses for Genesis 2 Female / Victoria 6 (.duf)
20 Poses Mirrors for Genesis 2 Female / Victoria 6 (.duf)
+ matching poses for props (.duf)
20 Poses for Genesis 2 Female / Victoria 6 (PoserCF) (.pz2)
20 Poses Mirrors for Genesis 2 Female / Victoria 6 (PoserCF) (.pz2)
+ matching poses for props (PoserCF) (.pz2)
Texture Styles:
04 Small Brushes Styles
04 Big Brush Styles
02 Brushead Color Styles
12 Brush Paintcolor Styles
06 Paint Can Styles
09 Canvas Styles
05 Easel Styles
05 Ladder Styles
05 Paintroller Styles
05 Paintroller Paint Color Styles
09 Palette Styles
05 Seat Styles
07 Stool Styles
Materialfiles for Poser 8 or higher (.mc6)
Materialfiles for DAZ Studio 4.6 or higher (.duf)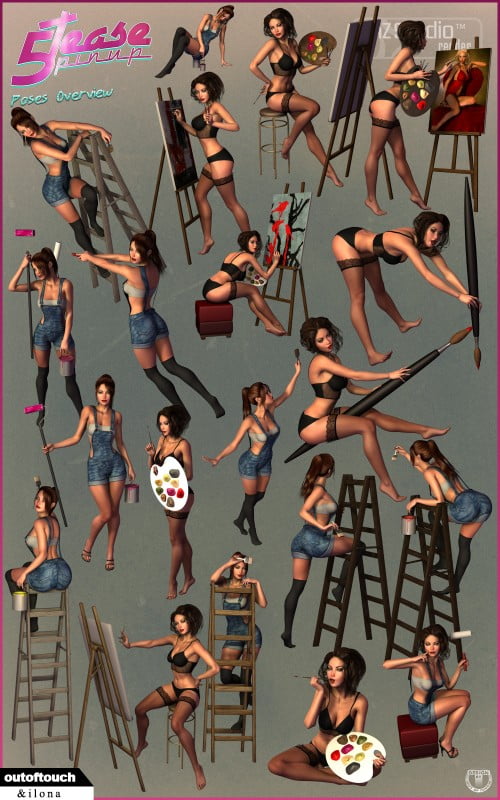 ---