A Cage for my Heart-for V4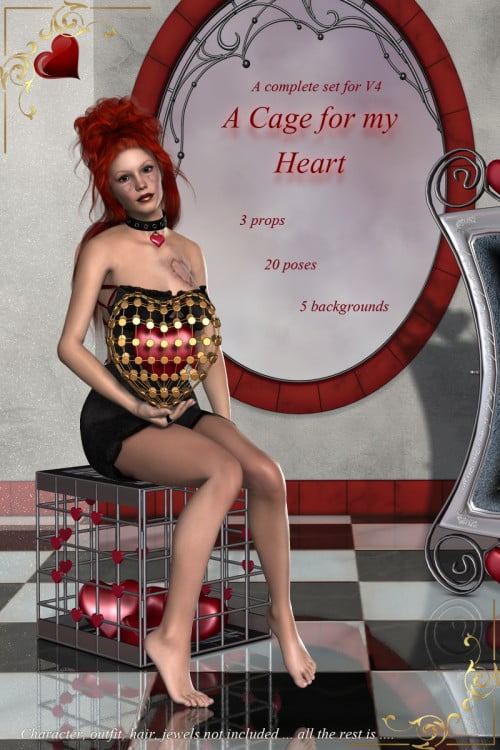 A cage for my heart … to protect it, to hide it … or to give it to you.
A complete set with a heart theme and a color theme : gold, silver, black, white, red.
Included :
– 3 props : a heart cage (1 parented and 1 non parented), a square cage figure with a door, a heart (1 parented to right hand / 1 parented to left hand/ 1 parented to the heart cage / 1 non parented)
– 5 preload mat for the cages + 5 metal partial mat and 10 mat for the heart (DS3.1 dsb files are included for all the mat)
– 20 poses : 6 poses using the heart cage, 5 poses using the square cage and 15 poses using the heart (+ left/right hand pose)
– 5 backgrounds : 2400*3000 jpg 72 dpi (one 3000*2400)
The heartcage and the heart follow automatically the poses, the square cage is to be left on its default position to match the poses.
No fix used in the promo images, no postwork … what you see is what you get !
A cage for my heart was tested with Poser 8, 9 and Poser Pro 2012, DS3.1 and DS4.6. Not tested on mac.
DS3.1 users will have to apply the DS mat after loading the props.
WARNING for DS4 users :
The poses work fine but the props (heart and heartcage) don't follow them automatically so I DON'T RECOMMEND THAT PRODUCT FOR DS4 users.
WARNING for POSER users :
The small Heart may render black if there is no figure or prop casting shadow loaded in the scene (known Poser issue with small size objects)
I do hope you will enjoy that product !! Happy rendering !
---