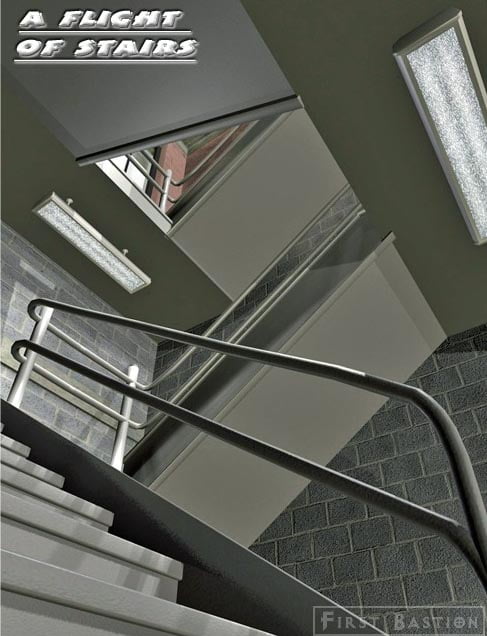 We all need to get to places, be it work, office, apartment, basement, parking. A functional stairwell can help get you there. A Flight of Stairs is an interior stairs 3D environment with a small exterior window wall area that allows for "through the glass" and "out the window" renders. Plenty of detailed angles allow for dynamic images and the included window allows for natural daylight to shine in and interact with the stair's own ceiling lighting.
Included in the set are a 2 storey preload, 3 storey preload, and a 5 storey preload, allowing the artist plenty of variety and options for design needs. There is also a basic floor area incorporated beyond each door with movable walls that can easily be configured into corridors or office spaces.
The set also includes, hanging florescent light fixtures, ceiling exit sign, flush mounted and raised wall mounted floor number signs, operable fire door with safety wired glass, and a solid core basement maintenance door with removable caution signage. All the doors open and close at their hinges, and the levered door handles turn. Also included is the promo light set. The entire set is parented to a size cube to allow for easy rescaling or placement.
Multiple material zones can accept whatever color choices your decor palette requires. The default options offer bare concrete block walls on the lower floors and painted concrete block walls that can be tinted easily in the material/surfaces tab on the upper floors. With the stairs you get terrazzo threads, painted metal risers, steel tube railings, c-channel steel stringers, and gray tiled landings.
As a bonus, there are preloads to position the stairs into either the Gallerie Bastion and Simple Gallerie environment if you have those sets. More info in the readme. It's not a requirement just something that might be useful to you and provided.
Rest assure, you'll usually find what you are looking for, either up or down a Flight Of Stairs.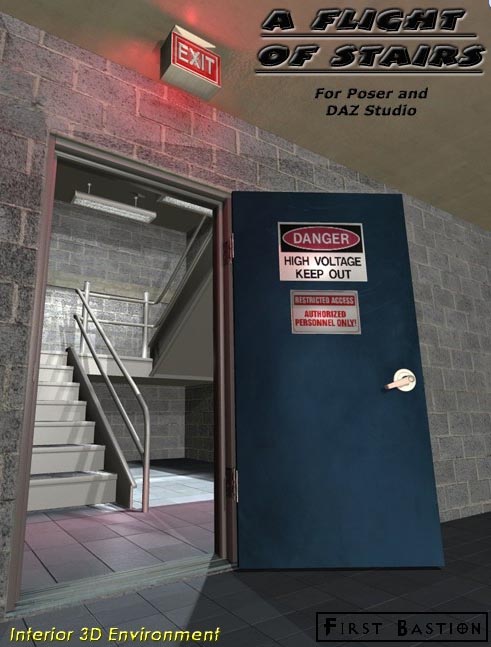 ---