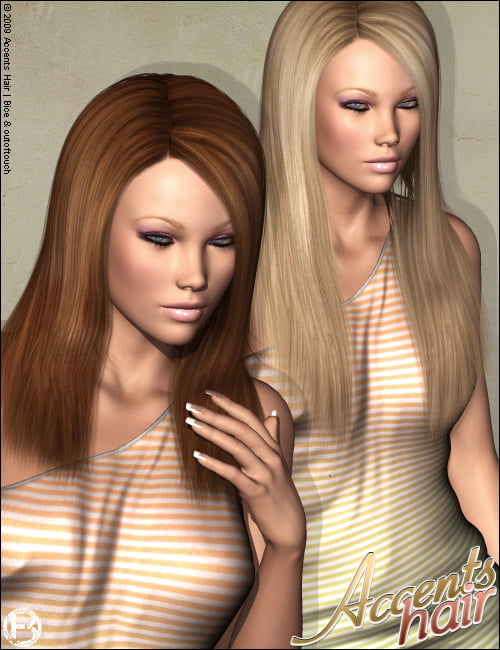 Be ready for the everyday flow and stay cool with this casual sleek hairstyle!
Accents Hair is a multi-layered and high quality conforming hair for Victoria 4 with fits for Aiko 4, Aiko 4 Realistic, and the Girl 4. It comes with a set of 37 built in morphs for adjusting, styling, and effects. A set of 25 high-resolution and photo-realistic hair textures are also included.
The "Click'n'Mix" system allows you to create thousands of different color styles with just a few clicks. Choose one of the 25 full colors as a base and then apply a "mix" and/or "streaks" MAT poses to get colored strands. All MAT poses are included in versions for Poser 5 or higher and DAZ Studio 2.3 or higher.
The proven Shoulder Control [CTRL] feature makes posing easier for you! The hair also conforms to the shoulder and collar movement of your figures! No sticking hair in the chest area or back shoulder anymore! When moving the shoulders/collars the hair automatically follows this movement.
---