Accessories Set I for Genesis 8 Males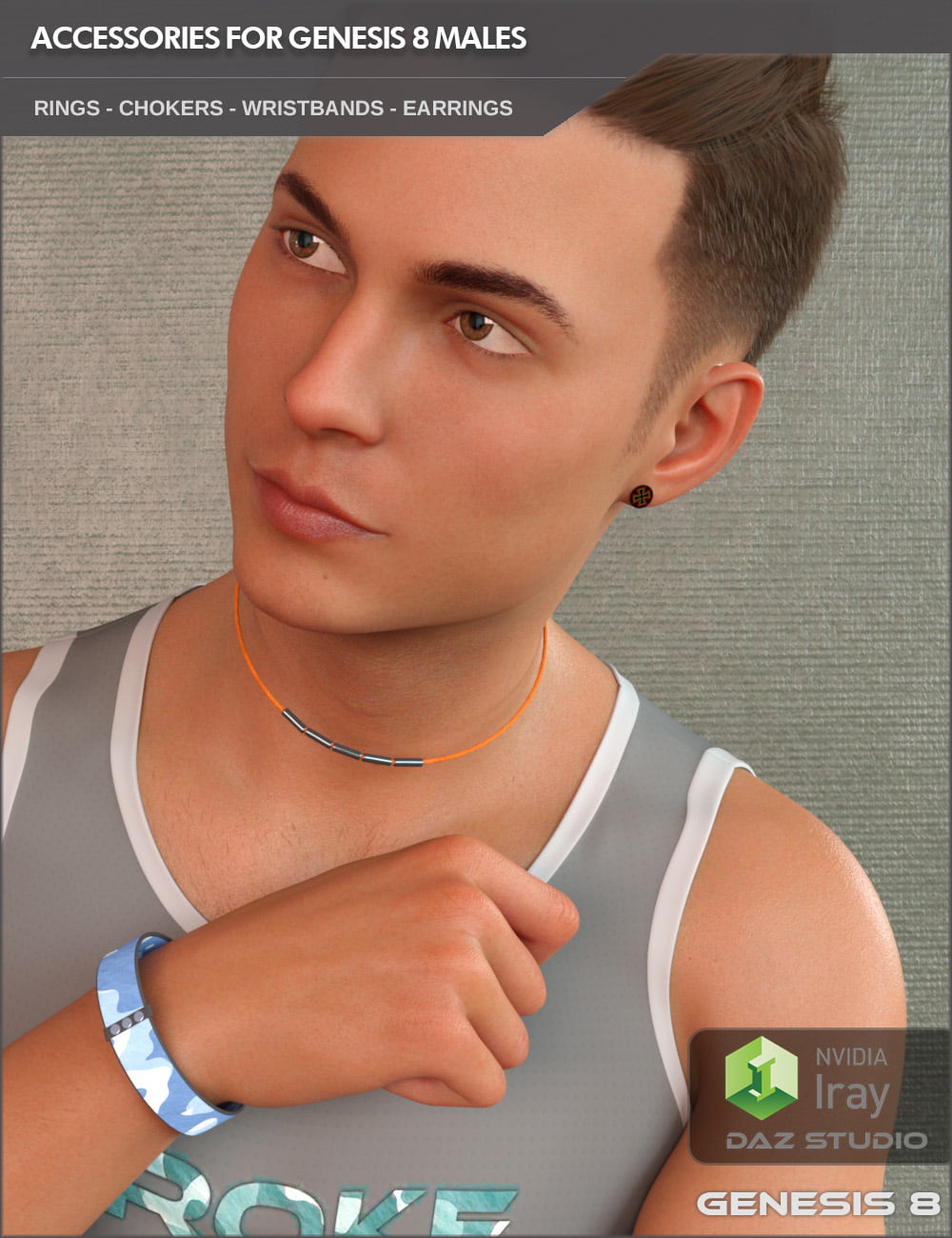 ---
Accessories Set I for Genesis 8 Males
Add some stylish and trendy accessories to your Genesis 8 Male based characters.
Whether boys, young adults or middle aged and older men, they will suit anyone.
Different chokers, earrings, rings and wristbands to choose from. All come with different material presets and adjustment controls (bending, translation, size etc.). They make it easy to adjust the position when you pose the body parts of the character, like bending the neck and so on.
Since the items are smart-props you can of course freely translate and scale them as you like as well and also use them just as props as decoration in your scenes.
Beside the Iray Material Presets your can of course change the surfaces to any RGB color you like or add your own bump/normal maps for other structure effects (metal surfaces), use shader presets from other products and change the metallicity and anything else to suit your needs.
Included are also custom presets for some items to adjust them partially, like the border color, strap color, button color etc. for a wristband.
Overall a versatile product to add a little extra to your male characters.
This product includes meta data for Daz Studio Smart Content.
Contents:
Accessories for Genesis 8 Males
Smart Props:
– 3 different chokers
– 4 different earrings
– 2 different rings
– 5 different wristbands
Iray Material Presets:
– 24 Presets for the Chokers (8 each)
– 10 Presets for Ring 01
– 29 Custom Presets for Earring 01 + 4 Structure Presets
– 15 Presets for Earring 02
– 6 Presets for Earring 03
– 8 Presets for Earring 04
– 15 Presets for Ring 01
– 24 Custom Presets for Ring 01 + 4 Structure Presets
– 10 Presets for Ring 02
– 6 Presets for Wristband 01
– 54 Custom Presets for Wristband 01 + 3 different fabric presets (Linen 1/2, Leather)
– 6 Presets for Wristband 02
– 40 Custom Presets for Wristband 02
– 10 Presets for Wristband 03
– 6 Presets for Wristband 04
– 6 Presets for Wristband 05
– 4 Metallicity Shader Presets
– 6 Metal Color Shader Presets + Options
---
5 GRATEFUL MEMBERS




---