Aging Morphs 2 for Genesis 2 Male(s)/M6 HD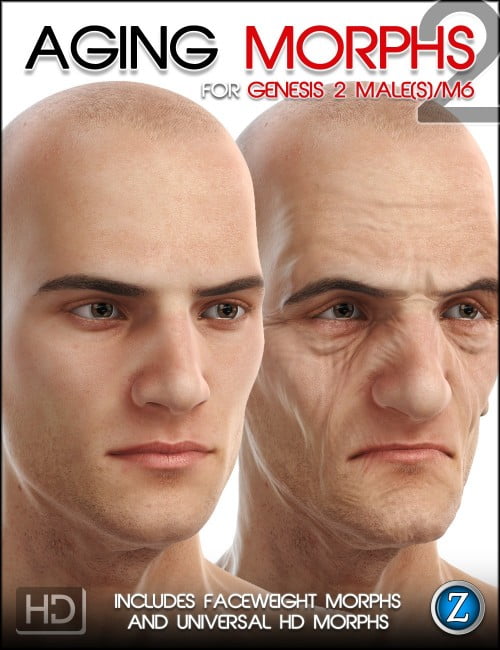 Also included are eight individual HD and semi HD morphs that can be dialed together or on their own. Designed on the base shape, this makes them fully universal and able to be applied and stacked with character specific HD morphs or shapes.
This product also includes Faceweight morphs. It is a unique set designed to add more diversity to your characters. Give them fatter cheeks, double chins or a thicker neck without affecting their base appearances. Now you can get a wide variety of different weighty looks, and turn supermodels into average Joe's with ease. This set includes 13 morphs including two smoother morphs.
What's Included & Features
Aging Morphs:
Aged Body1
Aged Body2
Aged Posture Smoother
Aged Posture
Bulbous1
Bulbous2
Centre Brow Folds1
Centre Brow Folds2
Centre Brow Folds3
Cheek Bones
Cheek Line Depth
Cheek Smoother
Chin Define
Chin Pointed
Ear Age
Ear Big
Eye Bags
Eye Sag Top
Eye Sag Under
Eye Size
Eye Socket
Eye Wrinkles
Eyelid Size
Face Age
Face Sag
Forehead Folds
Gums Soft
Gums Thick
Hump Fat
Hump1
Hump2
Jowls 1
Jowls 2
Laugh Lines1
Laugh Lines2
Laugh Lines3
Mouth Sag
Mouth Smoother
Neck Detail1
Neck Detail2
Neck Detail3
Neck Detail4
Neck Detail5
Neck Detail6
Neck Detail7
Neck Folds
Neck Wattle Double
Neck Wattle Single
Nose Age
Nose Folds
Shoulder Drop
Skin Sag
Spine Bottom
Spine Full
Spine Middle
Spine Top
Sunken Lips
Teeth Hide
Temple Smoother
Temples
Thin Lips
Under Eye1
Under Eye2
Under Eye3
HD and Semi HD Morphs:
Aging Arms HD & SHD
Aging Body HD & SHD
Aging Face Base HD & SHD
Aging Face Details 1 HD & SHD
Aging Face Details 2 HD & SHD
Aging Feet HD & SHD
Aging Hands HD & SHD
Aging Neck HD & SHD
Faceweight Morphs:
Basic Weight1
Basic Weight2
Basic Weight3
Cheek Balloon
Cheek Sag
Chin Type1
Chin Type2
Chin Type3
Head Rolls1
Head Rolls2
Jaw Smoother
Neck Chin Smoother
Neck Front
Neck PullDown
Neck Weight
5 Shaping Presets (.DUF and .PZ2)
8 Shape Remove Presets (.DUF and .PZ2)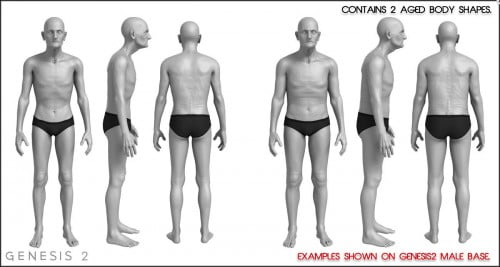 ---