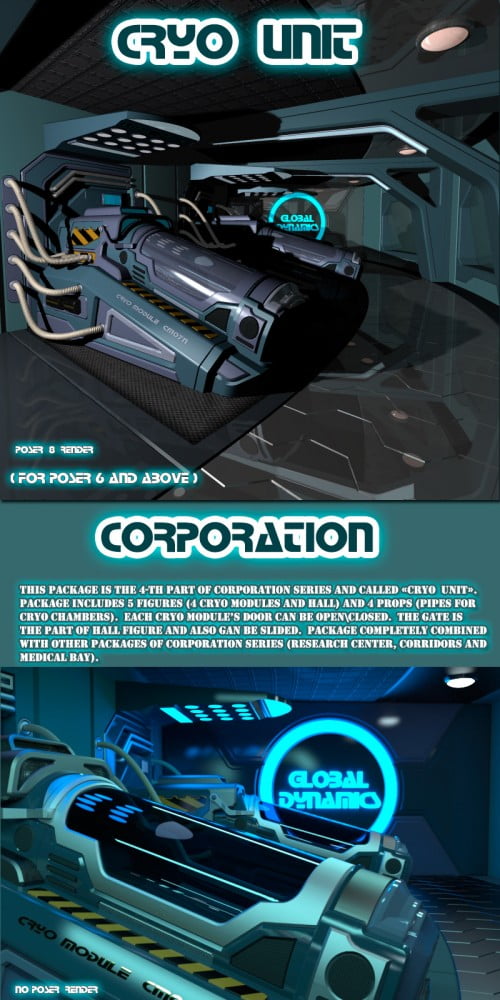 This product is the 4-th part of CORPORATION series. Product consists of 5 figures (Cryo Unit Hall and 4 Cryo Chambers) and 4 props – pipes for each Cryo Chamder. Cryo Unit Hall figure consists of many parts: floor, ceiling, inner wall, outside wall, gate ect. The visibility of each part of this figure you can disable in the properties tab if you need for more convenience for your scene camera. Moreover, Cryo Unit Hall fogure contains the gate wich you can open and close using corresponding slider. Just select the "gate" part of the figure and then you'll be able to slide the gate.
Cryo Chambers consists of 2 parts. You can open and close the door of each chamber if you need. Product contains also 4 props – pipes for every chambers. You can load pipes to your scene but you must remember that pipes can make your scene more harder referring to the number of polygons. This package completely combines with previous products of Corporation series. You can see how it combines in the promo images.
I hope that you will be able to realize your ideas and fantasies using this product and I sincerely wish you this.
Use Image Based Lighting ( IBL ) and increase Shadow Blur Radius, Shadow Samples and Shadow Min Bias in light Properties tab of Poser application for other non-IBL lights. Combine this parameters to achieve best rendering results.
Before using this product in your scenes, please, disable from Poser menu: Display-Ground Shadows and Display-Guides-Ground Plane.
Product includes geometry (*.obj) file in Geometries folder.
Use Poser 6 or above version of Poser application.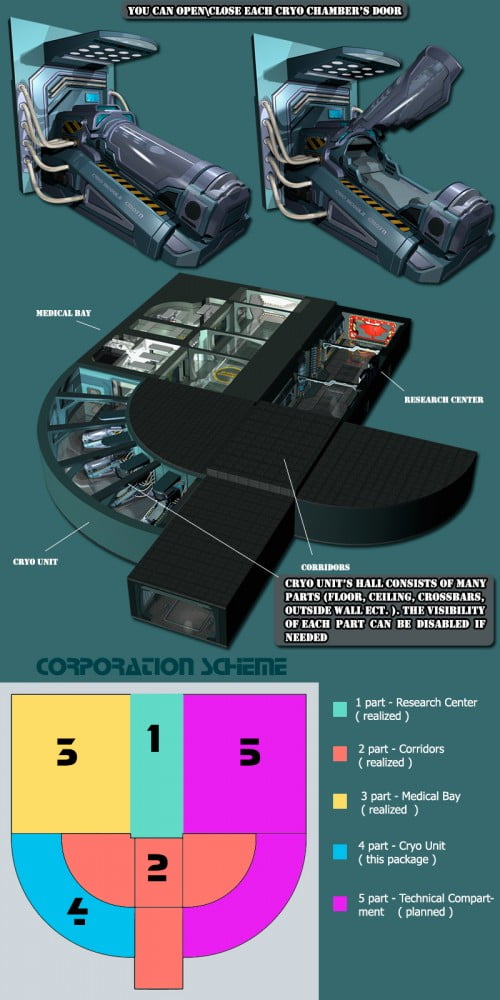 ---