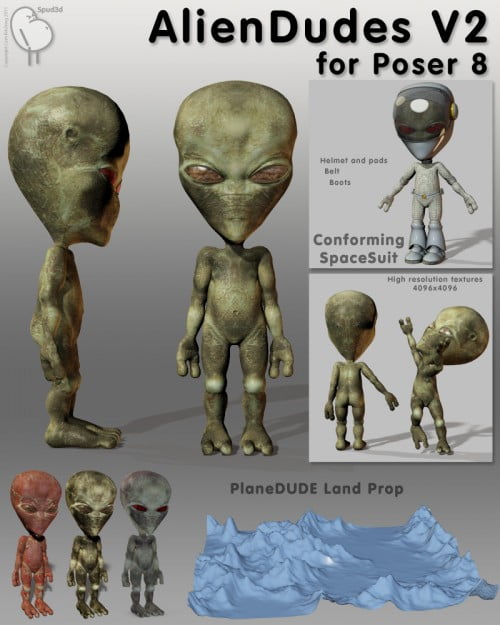 The AlienDudesV2.zip file comes with:
1 posable character with over 100 morph targets applied to the head and body. Advanced eye controls that give realistic eye movement for animating. Advance hand and feet controls for easy hand and feet posing
2 High resolution color and bump texture maps for skin
1 High resolution ?long underwear? texture map for use with the conforming space suit
1 Conforming space suit with 3 separate parts
Helmet and elbow/knee pads
Boots
Belt with movable clips
1 space ship prop with reflection maps
1 large landscape prop with sky sphere prop both UV mapped for easy texturing
12 different eye color texture maps with bump maps
10 skin material presets with a variety of colors and appearance
18 outer and inner eye material presets
2 sky sphere material presets
2 landscape material presets
2 metal like surface presets for use with conforming space suit (1 normal and 1 rusted)
35 poses specifically for the Aliendudes model due to their multiple hand and feet bones not standard to poser?s universal poses sets.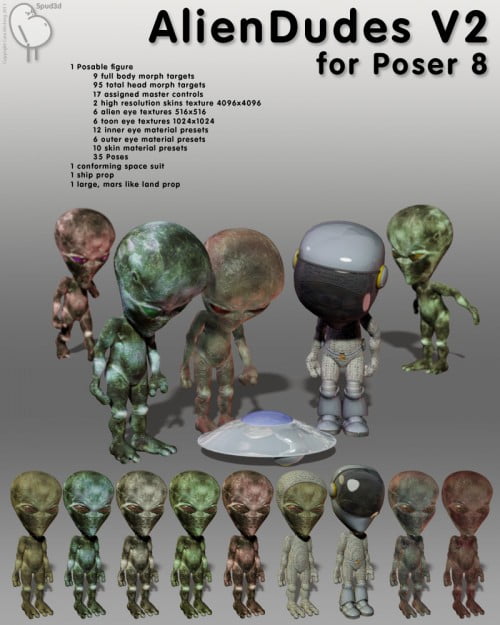 ---