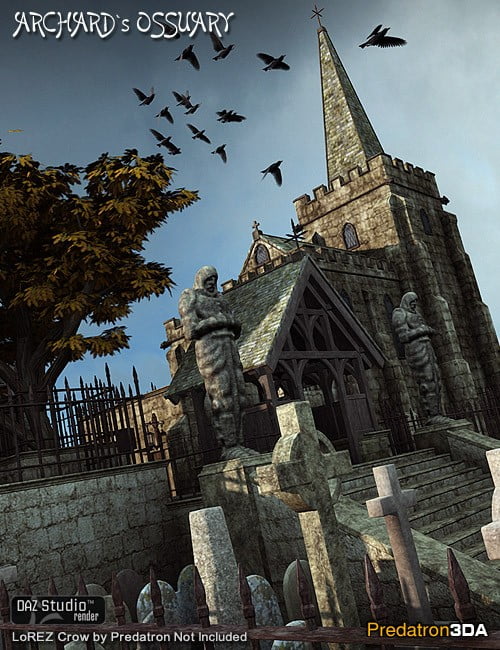 Archard's Ossuary is a fantasy styled graveyard scene that has many levels with lots of nooks and crannies. Move the camera around and there are lots of interesting angles and settings for your fantasy characters.
This scene is highly detailed and has a modular design so that each piece can, if needed, be hidden or loaded in separately, also it's possible to use any piece in other scenarios. There are two CR2's each set-up up with one Day version and one Night version. Alternatively just load in the props one by one. There are two lighting sets for Poser (Day and Night). There is a light set for DAZ Studio that applies lights to the all the lanterns for use in a night scene. It is suggested that additional lighting, as per the promos, use Dreamlight's Light Dome Pro 2.
The Church comes with a basic interior and the double doors can be opened. Each of the main CR2's are made up of all the relevant props smartpropped to a Null Prop, so that it is easy to move the whole scene at once.
Included is a tree with Summer and Autumn leaves, this can however increase render times significantly when using Environment/IBL lighting. So there is an option to load in an alternative Monument in the same place of the tree. The Monument is loaded by default.
---