Art Of Aesia vol3 – Furnitures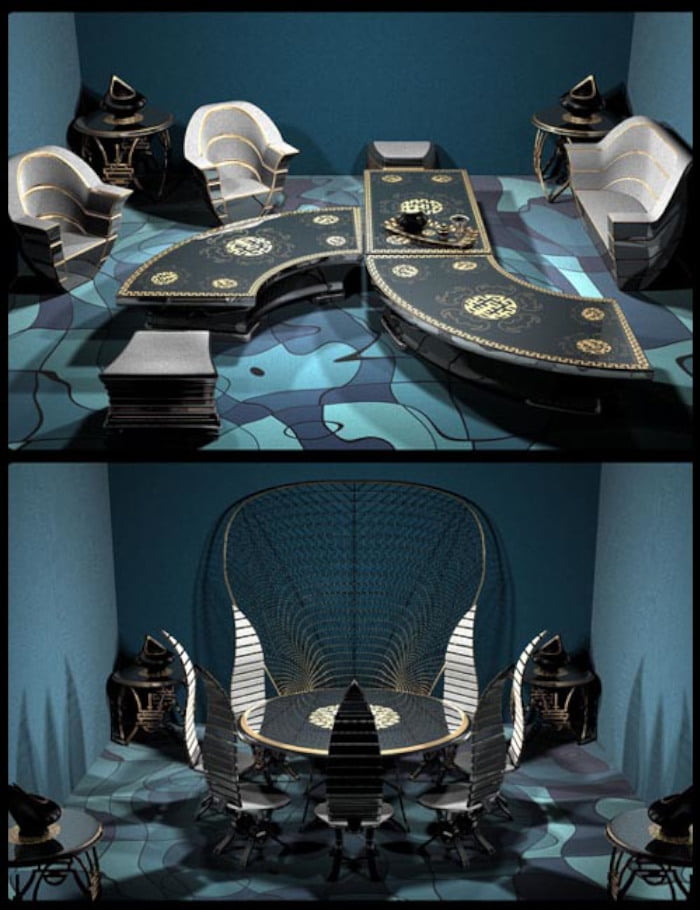 "Enter deeper in the Aesian world! Come explore its culture and high-class design! With "Art Of Aesia vol3 – Furnitures", your scenes will undoubtly reach a new level. Enjoy the great Peacock armchair designed for the great Queen Akwane, savour the comfort of her salon, have a break and relax on her Love Seat or breathe the delicate perfume of her most prefered tea. Your scenes deserve the best, right?"
All of these props are hires meshes.
The Vase is a prop parented to the Small Table.
The Sugar Pot, the Tea Cup and the Tea Pot come parented to the Tea Tray.
For each prop, there are 2 material collection: one using raytraced reflections and another one using no raytraced reflections. Most of these props use no texture at all but procedural shaders instead.
The Velvet materials offer you an alternative to the default velvet color of some of the props. You get a Black, a White and Blue velvet material that can be easily customized to fit your taste, plus a Ground velvet shader featured in the ads.
Some of the props require that Displacement is turned ON in your render settings in order to give all their potential.
There are 2 Miki2 poses for the Low Seat, the Chair, the Peacock armchair, the Armchair, the Sofa and the Love Seat. All poses are featured in the promotional pictures.
---