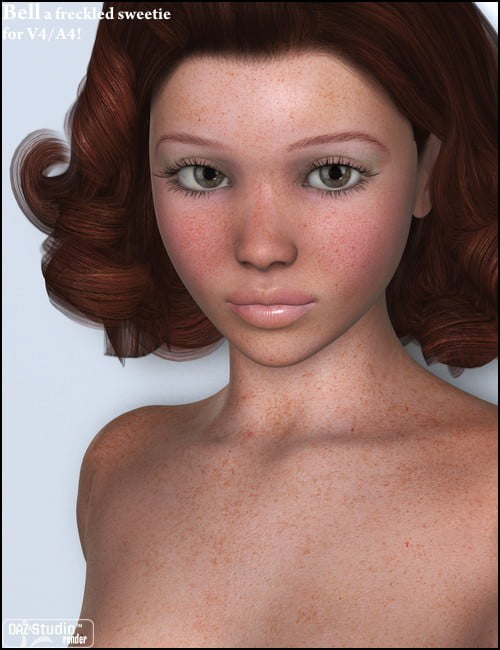 Introducing Bell for A4/V4, a sweet freckled little lady that adds a new look and charm to the beautiful A4 model!
Bell?s unique freckled textures include a high-resolution body texture, one natural head texture, four eye colors, (eight maps with or without highlights) and 10 make-up maps from subtle to glamorous!
She also includes an extra limb texture with an arm band tattoo and a cute little tattoo on her ankle, as well as a torso tattoo with a tribal butterfly on her lower back and 2 more feminine tattoos on her neck and shoulder. Bell also includes a set of highly detailed bump maps and specular maps, created before the freckles to give the best results possible in both DAZ Studio and Poser. A bonus male head texture is also included to use with your favorite V4Male or Vittorio4 characters! Bell for A4 has been optimized for DAZ Studio and Poser 6+ to achieve the most realistic renders possible! Little details such as a Lac Trans for the lacrimals, enhanced bump/specular maps and the use of shaders in DAZ Studio and Poser bring these textures to life! Bell is a very unique character, from her cute slightly ?Tom Boyish? charm, to the striking set of textures, she is sure to steal your heart and sizzle up your renders!
Included in the Bell pack is the light set I used for the DAZ Studio renders, you must own and have installed the UberEnvironment Light Shader IBL/HDRI by omnifreaker to use these lights. The poser renders use 4blueyes IBL Classic lights.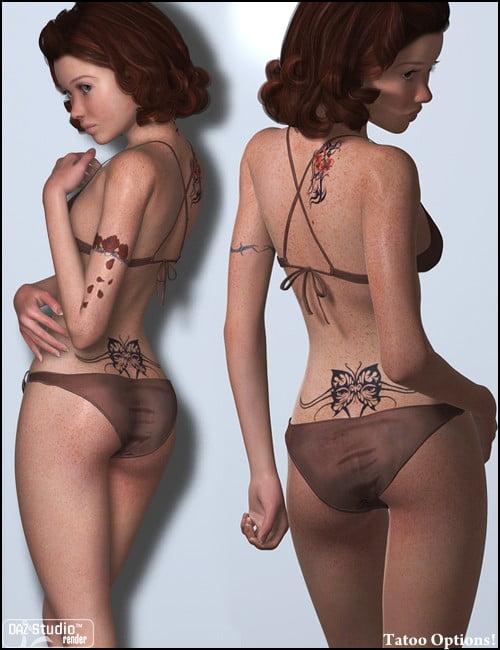 ---