Carla, The Dream Girlfriend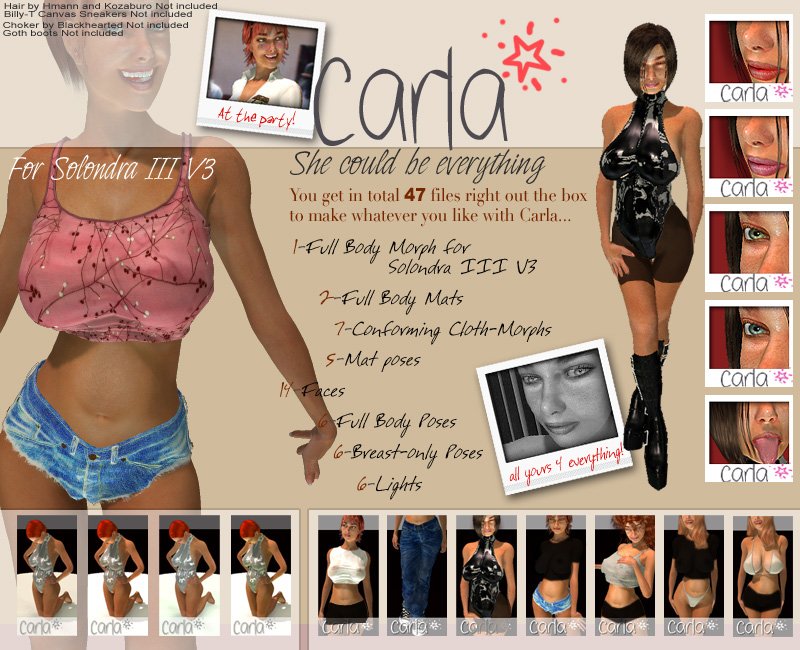 Carla its a character set for Solondra III V3 by Mobius
This character set is for all those who really want something that looks?real and different of the rest. Every render you see of V3 out there looks?exactly as that, a render of V3, all the time. Despite that V3 is excellent?she looks always as a super model and in rare cases she looks as a beutiful?average woman.
Carla has a look of a young woman which has a great body but of an every?day girl, one that you can find at the beach or at a party.?Her body its more round shaped, the breasts are full and her tummy its?softer and a little bit out, as a normal girl would have. Her hips are bigger but?the waist is thinner, and her legs I'm sure, will remind you the ones of someone
you know.
But the best part is her capacity of make expressions, from a simple smile?to a angry face showing you the tongue, her smile will not look maniac, unless?you like so. She has 61 face-morphs in total on the head to acomplish it, so you
can tailor the specific expression you are looking for.
Almost every render you find has a nude model with stiff, dummy like?breasts, I dont like that, and I dont like either that I could do nothing?to handle this.
Now you can have the power to give your renders a more natural look because?I have provided Carla with special breast movement morphs, 13 on each?collar for a total of 26.
She can now lean on her side, lean forward or lay down an her breast could be?posed as a REAL breasts would do.
Finally since she is built on the Solondra version which has the ability to?fit V3 clothes, you can reset the body-morphs and use all your wardrobe?and keep her versatil-super expresive face for your renders.
But if you like to keep her voluptuos body and use clothes on her, I?include morphs for some excellent clothes to make them fit Carla, you just?need to inject it on them.
---