Celtic Treasures : How to Create Ancient Art with Substance Designer and Painter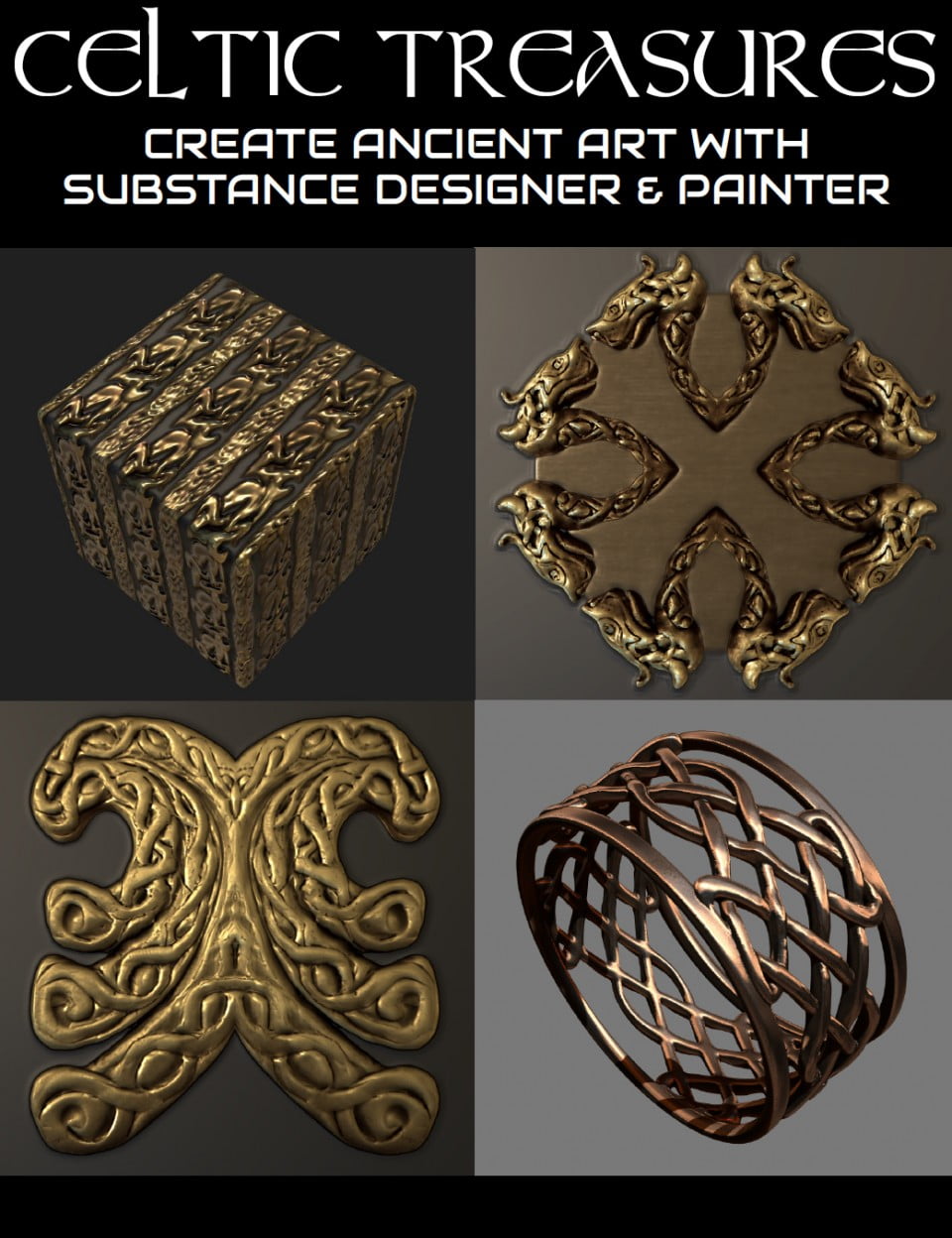 ---
Celtic Treasures : How to Create Ancient Art with Substance Designer and Painter
The Celts were a powerful and diverse group in Northern Europe and created a bold style of artwork using beautiful and striking geometric shapes in sculpture, carving and metalwork.
In these tutorials John Haverkamp will unlock Celtic artwork showing you the pattern language, the historical materials and techniques originally used. John will use Substance Designer and Substance Painter to create realistic ancient art, explaining the graph view and nodes along the way. The results will be exported to DAZ Studio, where the Iray shaders will be adjusted to achieve the best rendered results.
These tutorials use Substance Designer, Substance Painter, Photoshop and DAZ Studio. At time of writing Substance Designer and Painter can be obtained on a 30 day free trial basis from Allegorithmic.
1. Discover the pattern language of early Germanic and Celtic ornaments
2. How did they do that? Uncovering historical materials and techniques!
a. Repousse
b. Engraving
c. Casting
d. Carving
e. Enamelings
f. Inlay
d. Niello
3. Why model with clay to start the process?
4. Polymer clay construction techniques.
5. Preparing the clay relief photo in Photoshop
6. Learn Graphs and Nodes in Substance Designer
a. Bitmap2material node
b. Outputs – PBR
c. Transforming shapes, 2d str
d. Masking and when to output to photoshop
e. Blend
Celtic Treasures : How to Create Ancient Art with Substance Designer and Painter:
Session 1 : Substance Designer (1 hour 51 minutes)
Who are the Celts?
Some background history
Historical materials and techniques
Starting with a sculpture in clay
Include the imperfections
Using Photoshop to clean up the clay image
Creating a new Substance Designer Graph
Input and output nodes
Normal and base colours
Transform nodes
Tiling
Blending
Inverting
The gradient editor
Bitmap to material
Session 2 : Substance Painter (1 hour 16 minutes)
Viking sword inlay technique examples
Substance Designer : Dragon broach map
Substance Designer : The shape mapper node.
Band mask
Using node frames
Publishing the sbsar file for Substance Painter
Baking the mesh maps
Using masks
Choosing textures that enhance or hide model details
Using anchors
Exporting texture sets
Celtic bracelet
Importing textures into DAZ Studio
Editing the Iray shaders
Ambient occlusion
Adding decorative stamps to the Celtic band.
Supplementary Video (13 minutes)
How to export ambient occlusion from Substance Painter and apply it in DAZ Studio
Substance Designer Resource File
7. Exporting maps and publishing to .sbsar format for use in Substance Painter, modeling programs with the substance plugin, and realtime engines.
---
---