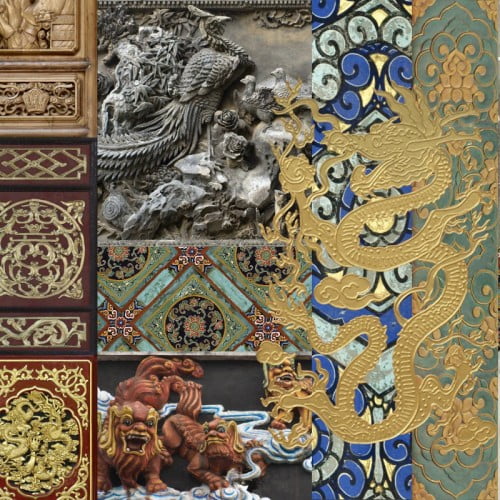 Chinese styles, patterns and architecture are not only beautiful and distinctive, but have survived the test of time; traditional designs that decorate the oldest buildings and museum fabrics are still used today. This package includes 67 images from original photographs, divided into five categories to help you bring an authentic Chinese flavour to your clothing, buildings, or any design project.
Most of the images are over 1000×1000, although there are some smaller pieces.
Included are:
Buildings: These twenty-four images include painted and carved designs and patterns to give your architecture the final finishing touch.
Fabric: These eighteen fabric tiles are from photographs of museum clothing but can be used for the modern day as well; traditional costumes are alive and well in China and worn by many people, and older designs can also be seen appearing in modern clothing.
Lattices: The unique open and airy feel to many Chinese buildings owes much to the use of carved lattices and screens rather than solid walls. These tiling lattices are all supplied as transparent pngs, for you to add your own intricate screens to your buildings.
Ornaments: These four images include three pieces of carved white jade and a traditional mask
Painting: Chinese painting is highly distinctive and beautiful; paintings appear not only inside homes as decoration, but on the buildings themselves. These nine old paintings feature birds, fruit, a Naxi symbol, and Lao-Tse, the father of Taoism, in a traditional scene.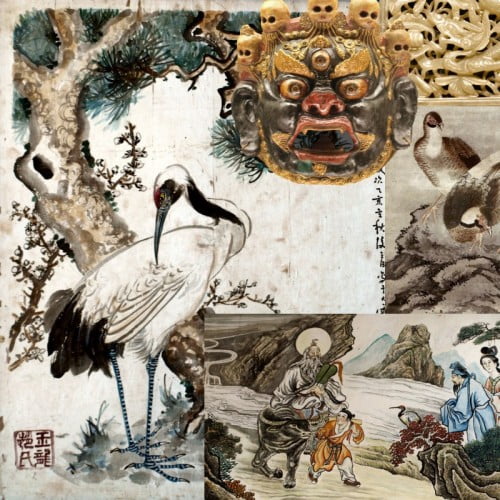 ---