City Building (Poser & OBJ)
This 3-story old brick building includes small surrounding city type environment that includes the street and street walk, a street lamp, a park with a tree. The entrance hall is also included as props.
All prop-separated, each hall interior wall is a separate prop. All doors rotate correctly.
There are sets of cameras and lights for the interior views (ie the entrance hall) and sets of cameras and lights for the exterior views (ie from the street).
Plus, although it is a stand-alone complete scene it can also be used with the "Cafe Day and Night (for Poser)" product.
The brick building, displayed in one of the renders, is not included in this product. It is part of "Cafe Day & Night (for Poser)" product.
.: Product Features :.
– 30 Props as separate objects with external geometries
– 11 Light sets (7 light sets for interior views and 4 light sets for exterior views)
– 20 materials
– 7 Camera presets
Highly detailed and realistic textures, materials included. Also includes a PZ3 with the entire scene set up ready to render.
The model is UV mapped and textured and scaled to Poser figures.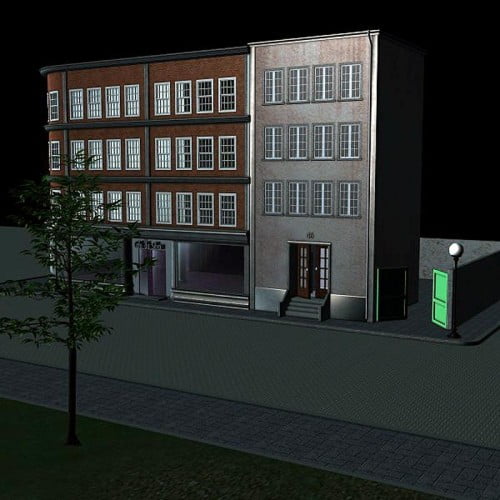 ---