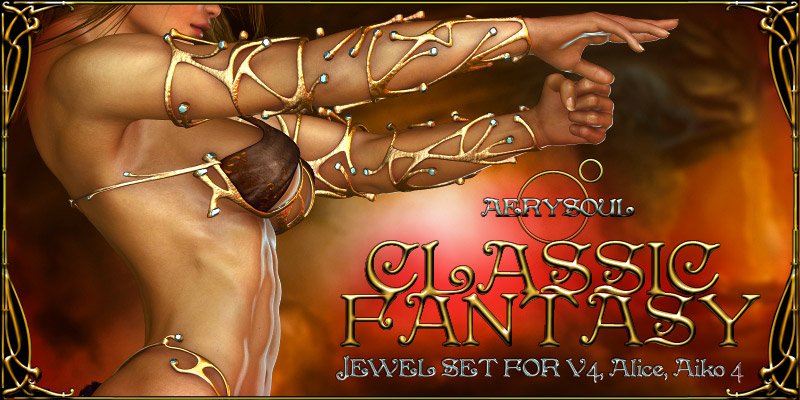 NOTES/INSTRUCTIONS -IMPORANT – READ-:
– Load Victoria 4 and load the clothes, conform the clothes and use the V4 magnet fit on the clothes to add the JCM magnets/morphs to them.
It is VERY IMPORTANT that you have VICTORIA 4 SELECTED before loading each piece of clothing in order for the various JCM morphs to work.
– ALWAYS USE THE MORPHS in the BODY part of any piece of clothing, not in the single body parts (such as shin, shoulder etc.), always SET
the MORPHS on the BODY.
– There are several helpful morphs (Move top/bottom up/down, enlarge etc.) for the various clothing pieces to help with poke-through and similar issues
(especially with Alice and other custom characters).
If you run into any poke-through please remember to check and use these morphs or, in case they are not enough, use custom Poser magnets.
– All pieces MUST be CONFORMED to VICTORIA 4 in order for the MATs "ALL" to work. It's a python script and it requires all pieces being conformed for
working properly!
– TEXTURES:
Please note: wire metal nad jewels are POSER MATERIAL ONLY, the only textures included are for the bra and panty pieces.
D|S users can check this thread for a good list of free DAZ Studio materials they can use alternatively:
– If you want to use Alice INJect the morph into V4 and set the Alice fitting morphs to 1 for each piece of clothing.
Alice shape is very different from V4 default one, this means some poke-through may happen more easily, simply use the included morphs to correct it
when it happens or custom magnets, you should also check Alice fix morphs because she has several that are useful to adjust poke-through (for
example for the front thighs when the legs are bent, Classic Fantasy fits Alice 2.0 just redownload her from your account history page on Renderosity if
you haven't done it yet)
– Classic Fantasy material files are optimized for Poser 7 (that is 5 and above), the clothes include a material shader that may need tweaking in
previous versions.
"ALL" MATs:
the material poses folders for metal (fake and real) and jewels include both simple mats (you have to select each piece and use the mat on each one after the other)
and ALL mats which set the material for all the pieces at once. These "ALL" mats work through a python script which was tested in Poser 7 and Poser Pro.
In case you are using previous versions or you have run into any problem using python scrips before we suggest to save your work before using these MATs so you won't
lose any data.
Hide Morphs (a nice feature to speed up your scene!)
Rather than including MATs to make some parts of the clothing disappear by becoming transparent we included HIDE morphs for the leather parts.
This makes the clothing much more versatile as you can easily customize them and create your own style, moreover:
– rendering times are much faster. By making clothing parts transparent the render slows considerably down because transparencies are very "heavy" on 3D tools resources.
By using the hide morphs you totally avoid this drawback.
– you don't need to reapply the textures via the MATs or the material room, in fact the hidden parts will keep all shader/texture information, once you reset the
hidden morph to 0 the piece of clothing part will render perfectly with no further tweaking needed.
– to make sure the hide pose work correctly always select the reference figure when there are armor props attached (leather glove for the glove part, metal shoe for the shoe part)
---