Collective3d Blue Collar Bungalow Bundle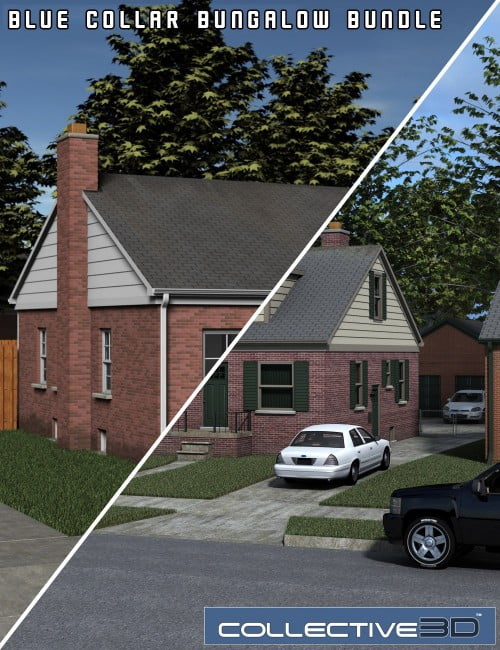 Build your working class neighborhood on a budget! The Collective 3d Blue Collar Bungalow Bundle combines all the features of the Blue Collar Bungalow and Low Poly Bungalows for an instant block's worth of houses.
Included in the bundle:
Collective3d Blue Collar Bungalow, featuring a full interior with removable walls, floors, ceilings, and roofs. Fully operable doors and windows (including frosted glass shower door).
Collective3d Low Poly Bungalows, a set of five low-poly, exterior-only variations of the Blue Collar Bungalow, featuring unique brick textures, rooflines, doors and windows, address plaques and porch lights.
Together the bundle includes six unique houses based on a single design, with enough variation and customization to fill an entire neighborhood and never see the same house twice. Numerous material zones make changing trim and door colors a breeze, and advanced Photoshop users can also easily change brick textures for even greater possibilities!
This Bundle Includes:
Collective3d Blue Collar Bungalow
Collective3d 5 Low Poly Bungalows
This product includes:
DSON Core Installers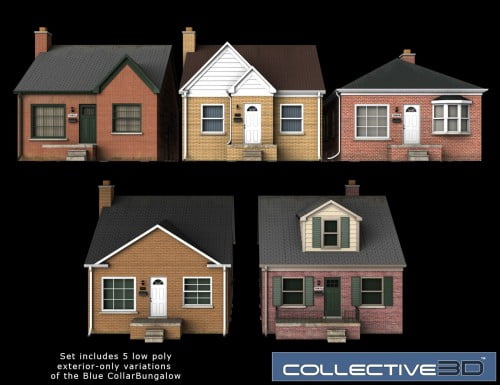 ---