Content Cataloger PRO for 3D Content and Multimedia Catalog Creations (WINDOWS v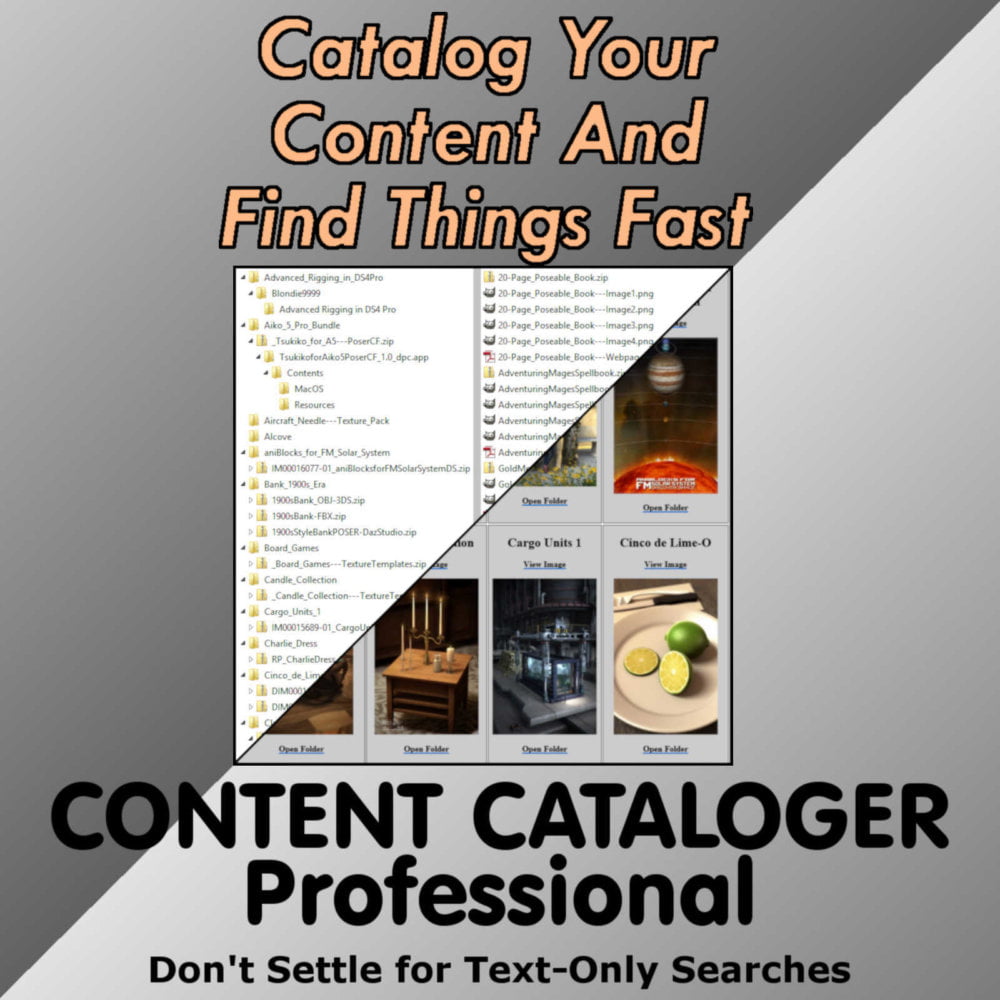 ---
Content Cataloger PRO for 3D Content and Multimedia Catalog Creations (WINDOWS v
Content-Cataloger products allow you to create your very own personalized catalogs of your digital media library in seconds! Organize all your content with a visual catalog that can open in almost any web browser (IE, Firefox, Chrome, Opera) and don't just settle for text-only searching again! User customizable searching criteria, personalized titles and date stamping to keep your catalogs current. Content-Cataloger PRO features seven catalog layouts including three for oversized (huge) collections, exclusion of duplicate filenames, and automatic creation of thumbnails. Once your new catalog is created, CCPro will prompt you to see if you want to view it with your system's default browser so you don't have to wait. You can see in the comparison image promo how much easier it will be to manage most content collections regardless of type (music, movies, photos, 3D)…
FEATURES:
* Instantly create Visual Catalogs of your digital media collections with graphics images:
Music, Images, Apps, Graphics, 3D Content and more…
* Save one complete catalog of all your media; or create as many catalogs as you need for each category in your library.
* Completely dynamic! When your content changes, quickly create a replacement catalog with ease.
* Automatically create separate thumbnail images to reduce browser overload for large image collections of high-resolution digital photos and graphics.
* Eliminate catalog images with duplicate filenames for smaller easier to use catalogs.
* Do you ever forget where you placed that important media file? No need to worry, just click the Open Folder link found below each image entry in catalogs and it will open the folder for you.
* Image-driven search engine creates html catalog of all images matching your search criteria that are compatible with almost any modern web browser (IE, Firefox, Chrome, Opera, etc).
* Your media is never altered or moved, it stays where you like it.
* Each catalog is imprinted with date created to keep track of when catalog last updated.
* Choose your own Title/Description to categorize your catalog.
* Choose the shape style of images placed in your catalog:
Square (Tiny, Small or Big), Portrait, mini-Portait, Landscape, and mini-Landscape.
* Save and Load configurations for catalogs you refresh often.
* Need hardcopy of your catalog? Simply print your catalog to any PDF creator from your browser (ie Adobe Acrobat, PDF995) and keep it for yourself or share with your family and friends (great for photo albums).
* Use CCpro to help create product pages for your own business and/or websites.
WARNING! This application is very powerful and can take extremely long periods of time to analyze and collect information for very large 3D content collections. Additionally, use caution when scanning huge collections as the resulting catalogs in HTML format may not work properly with all browsers.
Windows 10 with .NET Framework
---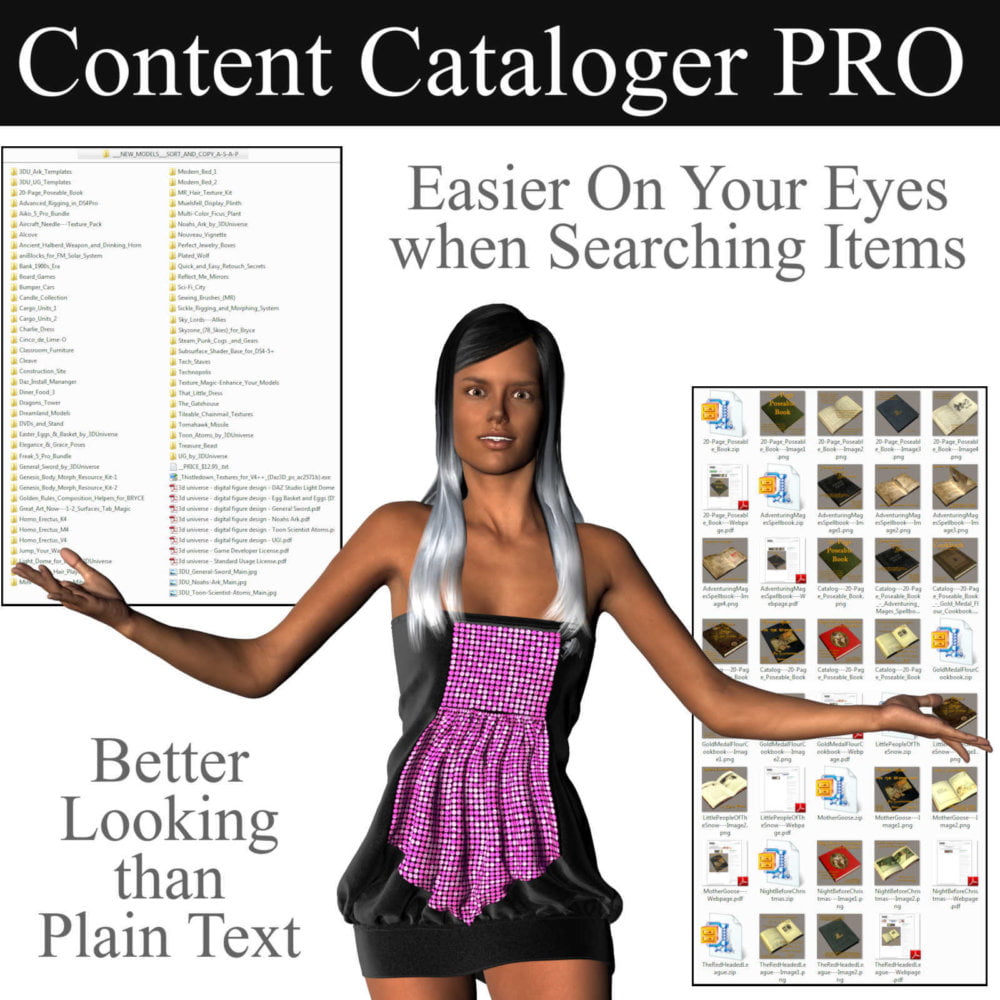 ---