Couple Of Darkness for Victoria 4 & Michael 4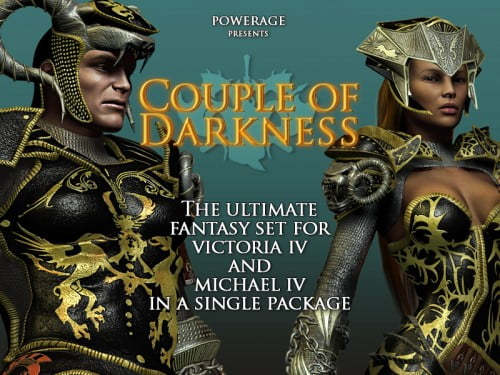 ABOUT COLLAR ARMOR AND SHOULDER ARMOR ITEMS (M4 V4):
These are smart props parents. These pieces contain the morphs (bodybuilder, young, etc …) as the other figures so that they adjust automatically.
However, you will need to manually adjust the placement with the standard dials (rotation / translation) following the pose of your character.
Also you can remove these parts if you want to customize, you can also use them with other clothes: select this part and save it in your props library.
ABOUT HAIR HELMET (V4):
The figure "v4hair helmet.cr2" is composed of hair and a tiara. You have movement morphs for the hair, select the body to access. We advise you to
adjust the morph "back" to a value of 1.00 to have the hair back (better position if you use all the clothes).
In your poses library, you have a choice of 6 colors for the hair. If you want to use other hair, go to your props library and
load the smart prop "helmet", it does not contain hair.
ABOUT AUTO CONFORM MORPHS (crosstalk):
When you conform each clothes, they will adapt it to the shape of your character morphs if he uses are present on the clothe (see list on the promo page).
For this to work, be sure to select your character before loading each garment in your scene, then conform it.
The clothes use the displacements map, check the displacement option in your render setting.
DAZ STUDIO USERS:
The product has been tested with DAZ STUDIO 3, and working properly.
Shaders used were created with Poser Pro 7 and are not optimized for DS.
We do not offer support for use with Daz Studio or any other softwares that Poser 5 and above.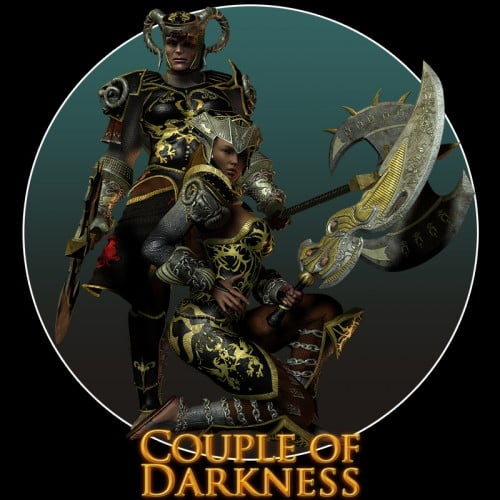 ---