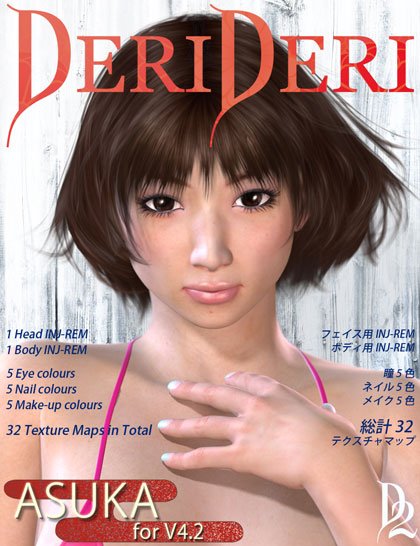 It's a "Japanese style" character model by DERIDERI. This model has a beautiful Oriental face. The texture of this model has attained the high quality by using a photograph material without a tiling texture.
Face morph, Body morph and a complete set of high quality textures.
Inj/Rem files and Mat Poses to apply all options in .Pz2 format.
Included in this package is:
Morphs and Mat Poses
Face INJ-REM
Body INJ-REM
1 MAT Def Apply
5 MAT Eyes
5 MAT Makeup & 1 MAT no-Makeup
5 MAT Nails & 1 MAT no-Color
Textures
3 Default Head Map (color,bump,specular)
3 Default Torso Map (color,bump,specular)
3 Default Limbs Map (color,bump,specular)
3 Default Eye Map (color,bump,specular)
4 Additional Eye Map (color)
5 Additional Makeup Head Maps (color)
6 Additional Nail Map (color,specular)
2 Teeth Gum Map (color,specular)
1 Eyelash Trans Map
1 Cornea Reflection Map
1 Lip Specular Map
---