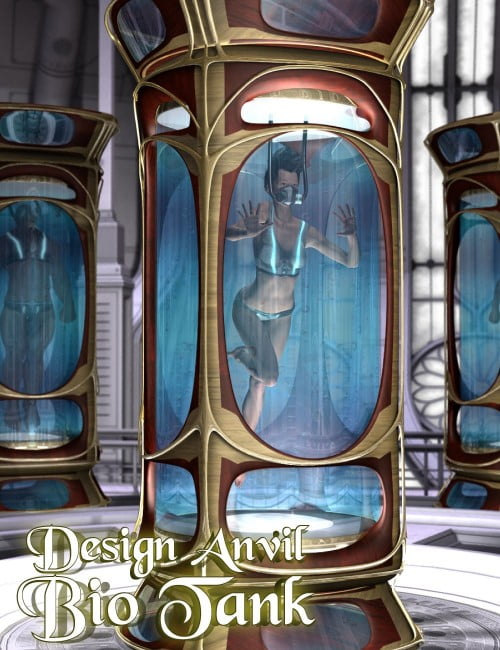 This Pack is made up of the DA Bio Tank prop with material presets and an outfit for your Genesis and Genesis 2 characters.
DA Bio Tank prop contains a large fluid-filled tank prop with three different styled material sets, including Wood (Wood and Gold – Steampunk), Sleek (Silver and Blue Metallic – Science Fiction) and Corrosion (Rust and Muck – Horror). There are also eight partial presets to change the look of the glass and color of the fluid contained so you can mix-and-match. Subsurface glowing versions of each of the material presets are also included for a total of 22 Material Presets for the tank.
The Outfit is made up of three pieces, a headwear piece breathing apparatus, a sleeveless top and pants bottom. The breathing apparatus has two joints in each pipe for movement (Upper and Lower). There are eight different color material presets for the outfit included, each is a smart material preset that can be applied to a single piece, or all of the pieces at the same time. Simply select all of the wardrobe items in the scene tab and single-click the material preset to load materials on all pieces, or you can select and click individually to mix-and-match on each piece. Also included are Subsurface glowing versions of the material presets for a total of 16 material presets for the outfit.
There are three versions of the outfit:
Genesis with fits for Michael 5, Victoria 5, Freak 5, Aiko 5, Stephanie 5, Hiro 5, Hitomi, Basic Male, and Basic Female.
Genesis 2 Female: Victoria 6, Gia, Girl 6, Teen Josie 6
Genesis 2 Male: Michael 6
This product includes:
1 DSON Core installer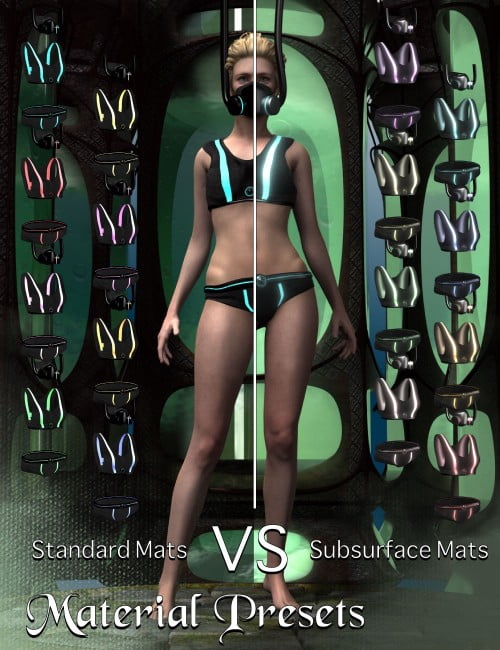 ---