Dandelion Clothes for Genesis 3 Female(s)
Designed for, but not limited to the Dandelion Fae character, this fun Fae outfit will complement many fantasy renders.
The set consists of a dress made of leaves, a belt-like long leaf that has 3 dandelion seeds attached to it with a drop of amber.
For more variation two extra texture sets are included.
To ensure a proper fit custom morphs are included for Arabella 7, Bethany 7, Eva 7, Gia 7, Izabella 7, Karen 7, Mei Lin 7, Olympia 7, Teen Josie 7, The Girl 7, Victoria 7 and of course Dandelion Fae.
What's Included and Features
Dandelion Clothes(.DUF)
Dress
Belt
Seeds
Materials:
3 Dress Presets
3 Belt Presets
1 Seeds Preset
Textures Include:
3 Texture Maps (164 x 1024)
1 Reflection Map (1024 x 1024)
3 Texture Maps (901 x 2048)
1 Trans Map (901 x 2048)
1 Texture Map (2048 x 1802)
1 Trans Map (2048 x 1802)
3 Texture Maps (2458 x 4096)
3 Bump Maps (4096 x 4096)
3 Texture Maps (4096 x 4096)
Texture Templates available through the Product Library
Daz Studio Iray Material Presets (.DUF)
Daz Studio 3Delight Material Presets (.DUF)
Notes
This product includes:
1 DSON Core Installer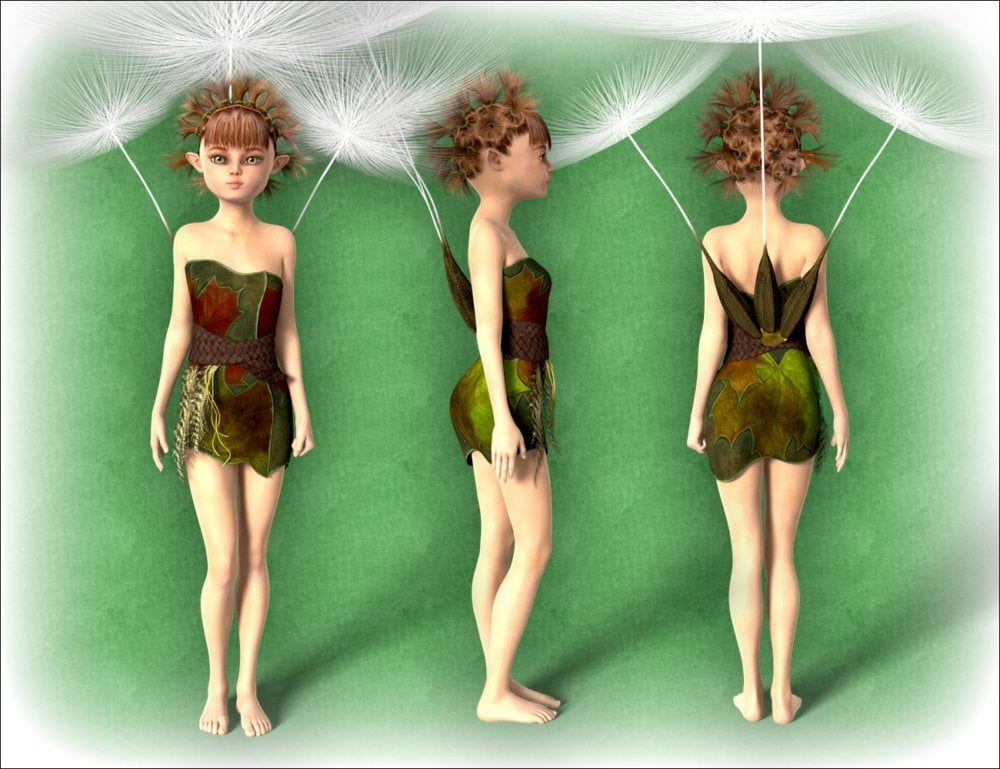 ---