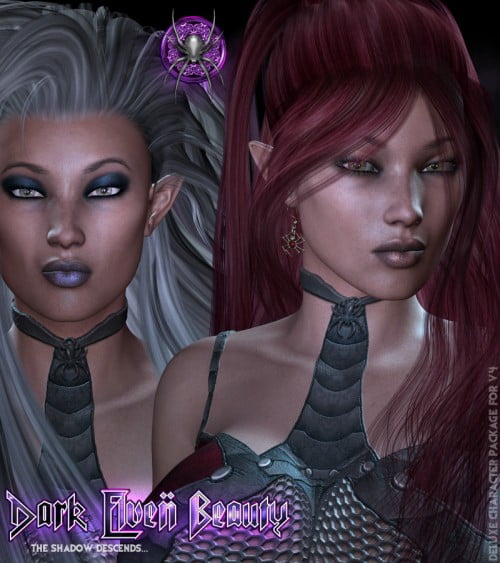 The succubus, the vampire, the siren, the dark elf… born of darkness they are at once beautiful, haunting, evil and tragic- sublime supernatural characters of myth and fantasy. This package brings the Dark Elven Beauty to life in stunning color- ancient, cold, and breathtaking, she reigns supreme in the realm of shadow, ever watchful lest one of her sisters take her place.
Dark Elven Beauty is an enormous character pack complete with multiple body morphs, body textures, makeup eyes nails tattoos and plenty of second skin options. And this is just the beginning! Expansions for Dark Elven Beauty will each feature new makeup and second skin costumes- with titles such as Dark Elven Sorceress, Dark Elven Warrior, and Dark Elven Priestess.
This package includes all of the following:
..Morphs..
Dark Elf Nails INJ-REM
Dark Elf Ears INJ-REM
Head Younger INJ-REM
Head Elder INJ-REM
Dark Elf Body INJ-REM
..Body MATs..
Full Dark Elf Textures
Second Skin Outfit 1
Second Skin Outfit 2
Second Skin Outfit 3
Second Skin Outfit 4
Second Skin Outfit 5
Second Skin Outfit 6
Belt & Choker combination 1
Belt & Choker combination 2
Dark Elven Tattoos
!Reset Chest
Hips Pubis texture
Hips Shaven texture
..Arms & Legs..
!Legs Bare
!Sleeves Bare
!Hands Bare
!Shoulders Bare
Armwear 1
Armwear 2
Armwear 3
Armwear 4
Armwear 5
Armwear 6
Handwear 1
Handwear 2
Boots 1
Boots 2
..Eye MATs..
Ancient
Black
Blue
Dark
Gold
Gray
Green
Hazel
Purple
Red
War
White
..Fingernails MATs..
Dark
Gold
Green
Ancient
Blue
Hellish
Magic
Natural
Silver
Web
..Makeup Options..
Adorned
Copper
Darkness
Dusk
Midnight
Moonglow
Natural
Sacrifice
White
Witness the arrival of the Dark Elven Beauty, the shadow descends!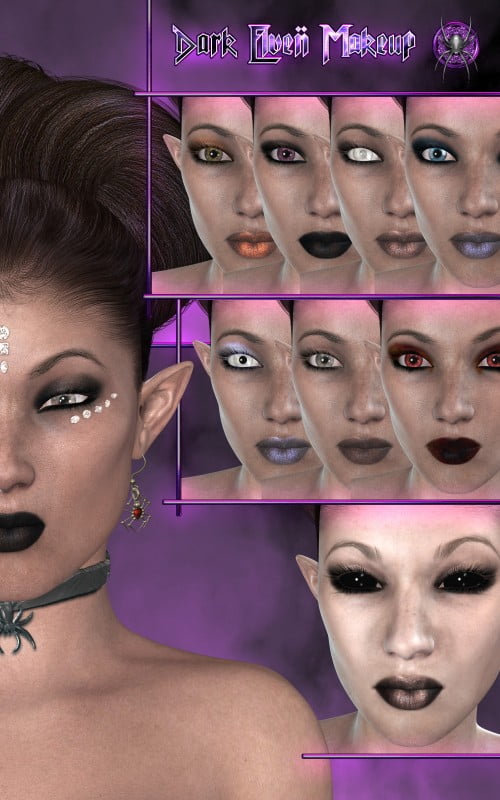 ---