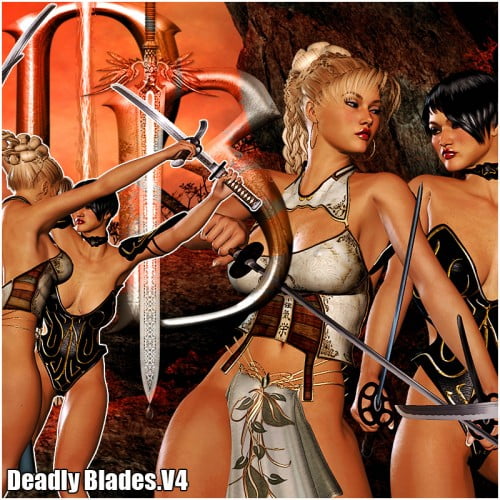 "The ring of steel blades clashing and shrieks of battle fill the air- two deadly amazons in a test of skill, poised at the edge of destiny, locked in brutal combat. Whether light or darkness will triumph, remains to be seen…"
Deadly Blades is a new poses package for Victoria 4.x designed with painstaking detail to bring you a duel of steel on steel. Each warrioress wields two swords in a beautiful array of attacks and parries. The set was built using the katana and wakizashi blades from Hellsing Gaijin by Orion1167 and XV3D; but can easily be adapted to accomodate any one handed weapons.
In total this set contains 80 dueling poses: in the first half both fighters block and riposte skillfully to avoid the fateful stroke- while the second half describes one warrioress with the upper hand scoring on her enemy; everything from minor wounds to fatal thrusts- with a few poses compelling obvious surrender.
* Some tweaking of the wrists may be called for to align the clashing weapons correctly.
* 1 Reset Body pose is included
* All poses will function pefectly with limits ON or OFF.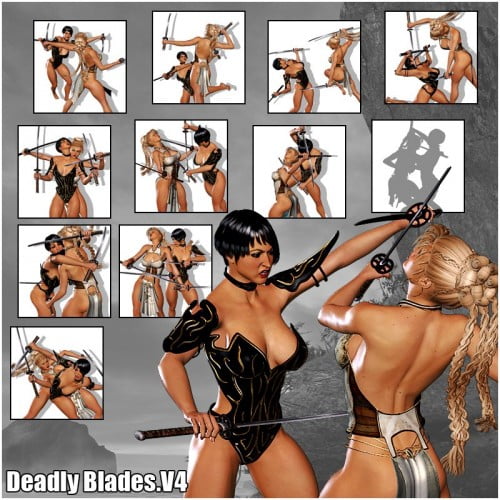 ---