dForce Boyfriend Jeans for Genesis 8 Female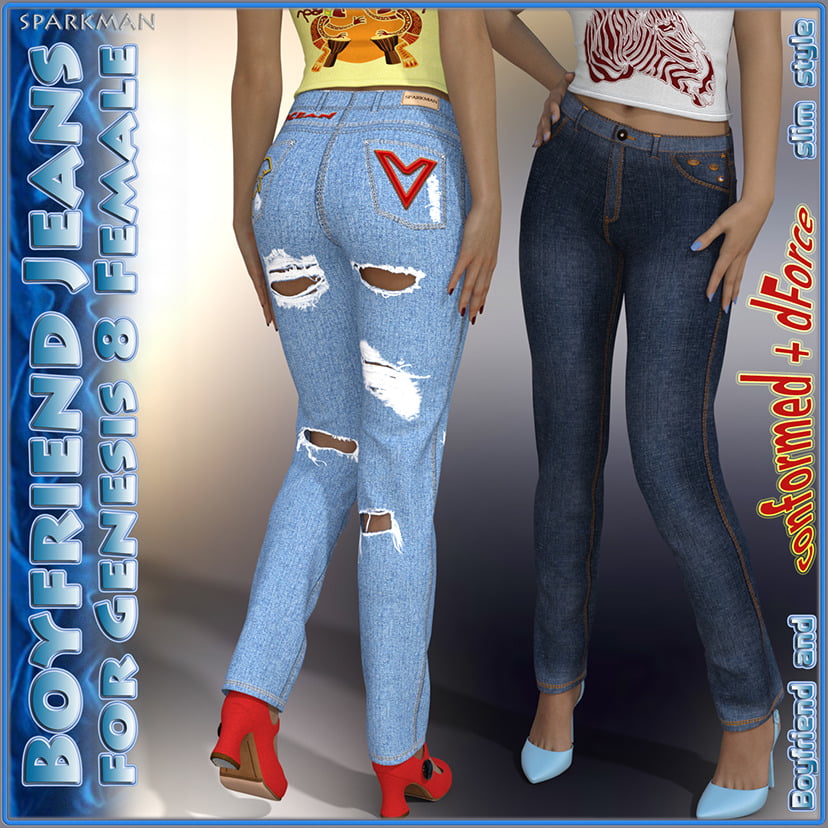 ---
dForce Boyfriend Jeans for Genesis 8 Female
This set features four clothing units-boyfriend jeans in four variants : Conforming Boyfriend Jeans G8F , dForce Boyfriend Jeans G8F Buttoned, dForce Boyfriend Jeans G8F Unbuttoned and dForce Boyfriend Jeans for use as props as well
the product is traditionally complemented by a dozen themed undressing positions for Genesis 8 Female , and high quality dynamic morphs for jeans. Jeans have 2 styles: Boyfriends and slim. For the correct and high-quality work of Morphs, please read the ReadMe. Dynamic morphs created for jeans , dressed in Genesis 8 Female, if you are using custom avatars morphs may not work properly and will need some adjustment of the clothes . All this is easy to fix, using the dForce .Please leave your feedback and suggestions . Thank you
for the support my product, good luck with the render!
Compatible Products / Software:
This clothing set was created for:
Genesis 8 Female by Daz3D
Supported Genesis 8 Female figures:
Victoria8
Karyssa8
Teen Josie8
Teen Kaylee8
Alexandra8
Charlotte8
Edie8
Gia8
Girl8
Latonya8
Mabel8
MeiLin8
Sakura8
Monique8
Aiko8
Stephanie8
Mika8
Penny8
Olympia8
Zelara8
+ several Genesis 8 Female bodyshapes
This clothing set works in:
DAZ Studio 4.10 and higher
Set of clothes dForce Boyfriend Jeans for Genesis 8 Female consists of 3 pieces:
1. Conforming Boyfriend Jeans G8F
2. dForce Boyfriend Jeans G8F Buttoned
3. dForce Boyfriend Jeans G8F Unbuttoned
4. dForce Boyfriend Jeans for use as props
5. Hanger
6. dForce Simulation Plane
---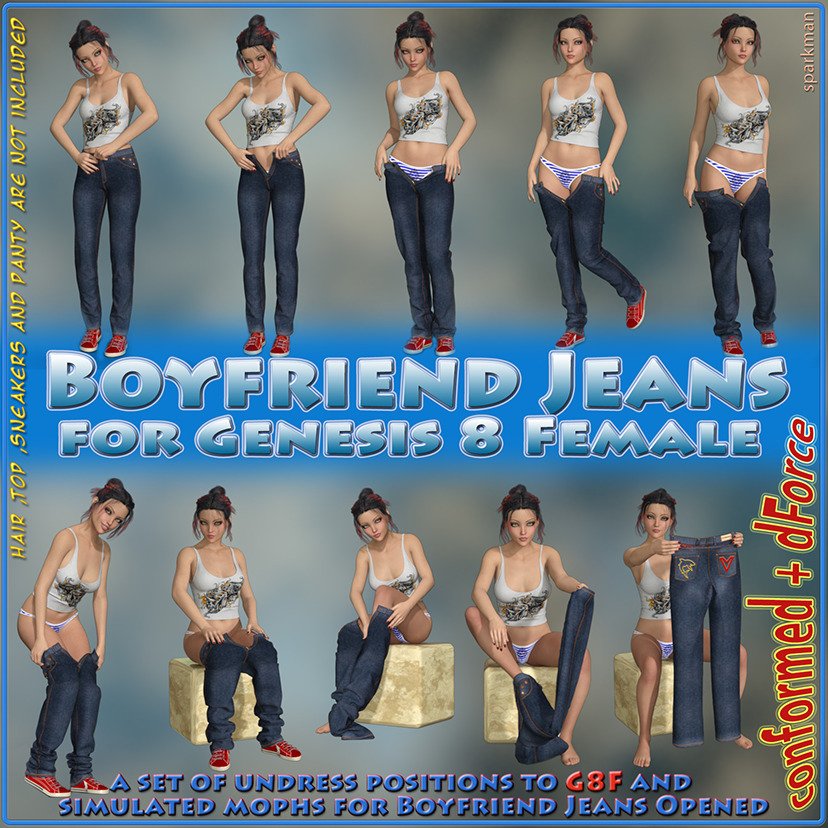 ---