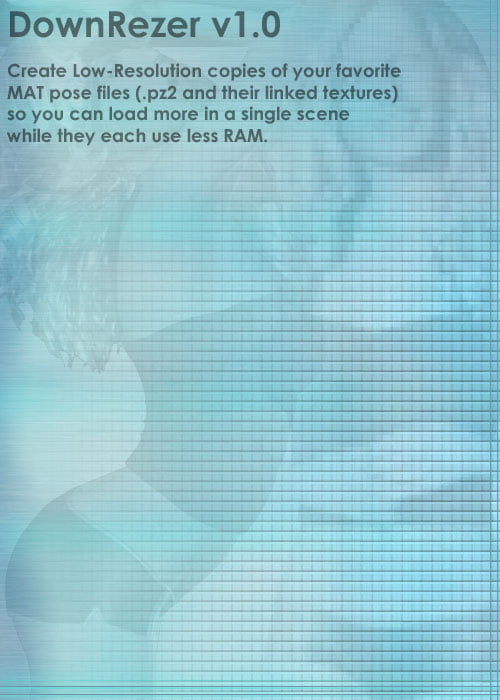 DownRezer is a tool that makes a copy of existing .pz2 and all linked texture files, downsampling the size of the copied texture files, so that loaded MAT files take up much less RAM space.
Often, we cannot load more than a few characters in a single poser/carrara/daz scene, because the MAT texture files are too big. Such resolution is useless with many characters in a single scene, since we can't see the details anyway of each MAT file when camera is far away from the character. Thus, having a LOW-resolution copy of a .pz2 and associated MAT texture files, allows you to load more characters in a single scene. Works on any .pz2 MAT pose file, including skin textures, clothing MAT pose file…
Downsampling is made thru a bilinear scaledown of image files to 25% of original size (height and width divided by 2), and all LOW-res copies are saved as .jpg JPEG, 90% quality, 50% smoothing, for best results, and reasonable file size. It also accelerates the render time by keeping more textures in RAM (them being smaller) and requiring less virtual memory on hard drive (RAM is faster than the hard disk).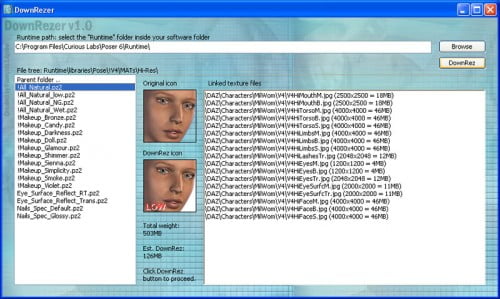 ---