Dragon Empresses for Genesis 8 Female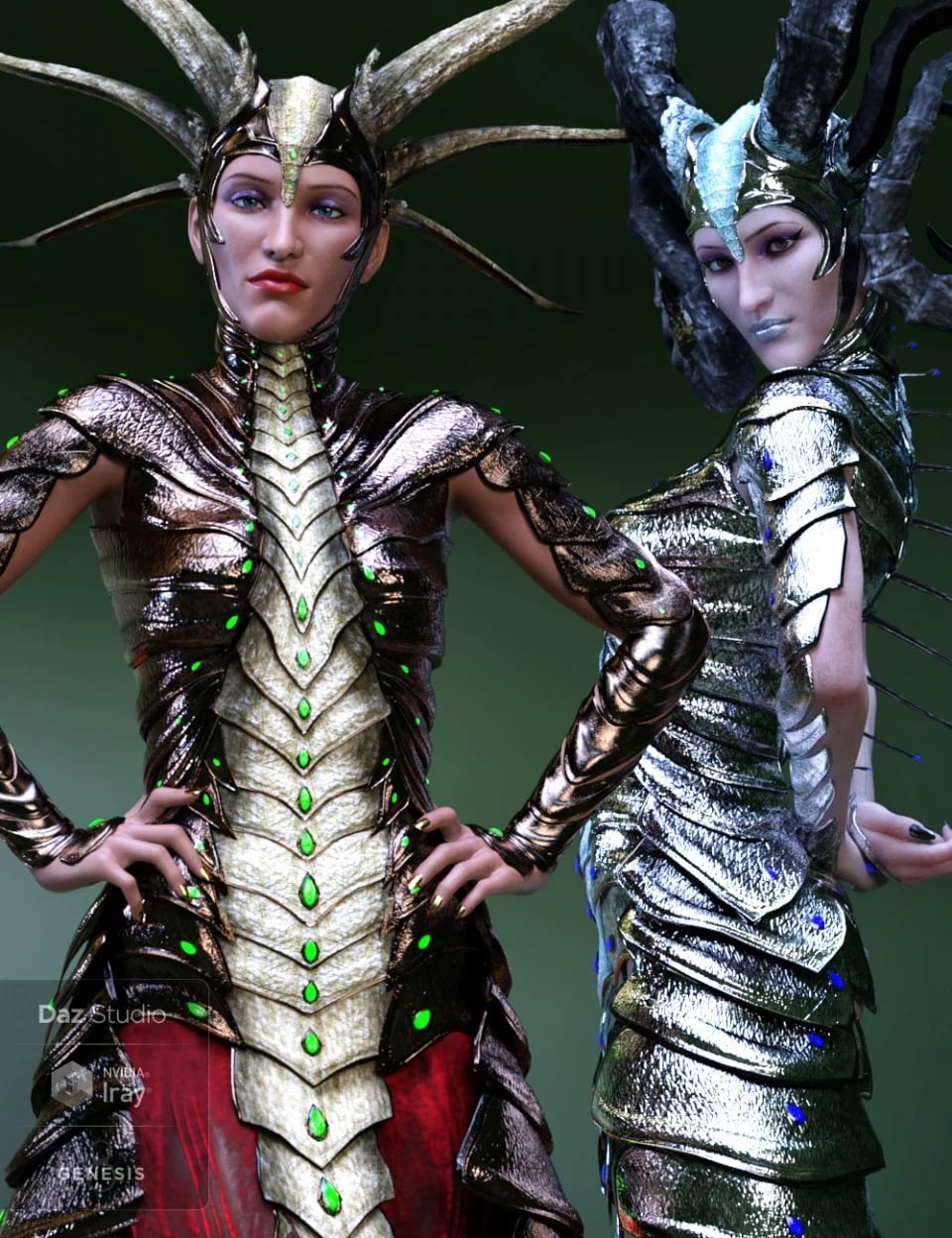 ---
Dragon Empresses for Genesis 8 Female
The Dragon Empresses are two complete character morph and skin sets for your runtime needs. Whether she is a dark Queen, Sorceress, Protector of Dragons or the girl (or elf) next door, she can be used in a variety of scenes and themes!
Combined with the Dragon Empresses attire and add-on set this is a bundle not to be missed for sure!
With loads of options and ways of combining them, these two ladies can be just about any type of character you need. Their facial morph is based off of photo references and their body morphs are independent of other morphing packages and can be used without additional products.
Anatomical Element materials are included.
Materials are Iray only.
What's Included and Features
Dragon Empresses for Genesis 8 Female (.DUF)
Actors (.DUF)
Ardasin.duf
Zinada.duf
Wearables (.DUF)
DE Brows.duf
DE Lashes.duf
Shaping Presets (.DUF)
Ardasin Full Apply/Remove
Ardasin Body Apply/Remove
Ardasin Head Apply/Remove
Ardasin Navel Apply/Remove
Ardasin Nipple Apply/Remove
Ardasin Nails Apply/Remove
DE Fantasy Ears 1 Apply/Remove
DE Fantasy Ears 2 Apply/Remove
DE Fantasy Eyes Apply/Remove
Zinada Full Apply/Remove
Zinada Body Apply/Remove
Zinada Head Apply/Remove
Zinada Navel Apply/Remove
Zinada Nipple Apply/Remove
Zinada Nails Apply/Remove
Ardasin Character Base Materials
Ardasin !Full.duf
Ardasin Base Lips.duf
Ardasin Base Torso.duf
Ardasin Brow 1.duf
Ardasin Brow 2.duf
Ardasin Brow 3.duf
Ardasin Brow None.duf
Ardasin Anatomical Elements.duf
Eyes and Eyelash Materials
DE Eyes Blue.duf
DE Eyes Brown.duf
DE Eyes Fantasy 1.duf
DE Eyes Fantasy 2.duf
DE Eyes Fantasy 3.duf
DE Eyes Gray.duf
DE Eyes Green.duf
DE Eyes Violet.duf
DE !Lashes Off.duf
DE !Lashes On.duf
DE Lashes 1 Auburn.duf
DE Lashes 1 Black.duf
DE Lashes 1 Blonde.duf
DE Lashes 1 Brunette.duf
DE Lashes 2 Auburn.duf
DE Lashes 2 Black.duf
DE Lashes 2 Blonde.duf
DE Lashes 2 Brunette.duf
Fibermesh Hair
DE Brows Auburn.duf
DE Brows Black.duf
DE Brows Blonde.duf
DE Brows Brunette.duf
DE Lashes Auburn.duf
DE Lashes Black.duf
DE Lashes Blonde.duf
DE Lashes Brunette.duf
Glitter Make Up Accents
DE Glitter Eyeshadow 1-5 & 7-9 Green.duf
DE Glitter Eyeshadow 1-5 & 7-9 Pink.duf
DE Glitter Eyeshadow 1-5 & 7-9 Seafoam.duf
DE Glitter Eyeshadow 1-5 & 7-9 Silver.duf
DE Glitter Eyeshadow 1-5 & 7-9 Violet.duf
DE Glitter Eyeshadow 6.duf
DE Glitter Lips Gold.duf
DE Glitter Lips Green.duf
DE Glitter Lips Pink.duf
DE Glitter Lips Seafoam.duf
DE Glitter Lips Silver.duf
DE Glitter Lips Violet.duf
Finger and Toe Nail Materials
Ardasin !Base Nails.duf
Ardasin Base FNails.duf
Ardasin Base TNails.duf
Ardasin FNail 1.duf
Ardasin FNail 2.duf
Ardasin FNail 3.duf
Ardasin FNail 4.duf
Ardasin TNail 1.duf
Ardasin TNail 2.duf
Ardasin TNail 3.duf
Ardasin TNail 4.duf
DE Nails Bronze 1.duf
DE Nails Bronze 2.duf
DE Nails Gold 1.duf
DE Nails Gold 2.duf
DE Nails Silver 1.duf
DE Nails Silver 2.duf
DE Nails Steel 1.duf
DE Nails Steel 2.duf
Zinada !Base Nails.duf
Zinada Base FNails.duf
Zinada Base TNails.duf
Zinada FNails 1.duf
Zinada FNails 2.duf
Zinada FNails 3.duf
Zinada FNails 4.duf
Zinada TNails 1.duf
Zinada TNails 2.duf
Zinada TNails 3.duf
Zinada TNails 4.duf
Skin Material Presets
DE Displacement Off.duf
DE Displacement On.duf
Ardasin Base Body Gloss.duf
Ardasin Base Anatomical Elements Gloss.duf
DE High Body Gloss.duf
DE High Anatomical Elements Gloss.duf
DE High Lips Gloss.duf
DE Medium Body Gloss.duf
DE Medium Anatomical Elements Gloss.duf
DE Medium Lips Gloss.duf
Zinada Base Body Gloss.duf
Zinada Base Anatomical Elements Gloss.duf
Ardasin Alt 1 Body SSS.duf
Ardasin Alt 1 Anatomical Elements SSS.duf
Ardasin Alt 2 Body SSS.duf
Ardasin Alt 2 Anatomical Elements SSS.duf
Ardasin Base Body SSS.duf
Ardasin Base Anatomical Elements SSS.duf
Zinada Alt 1 Body SSS.duf
Zinada Alt 1 Anatomical Elements SSS.duf
Zinada Alt 2 Body SSS.duf
Zinada Alt 2 Anatomical Elements SSS.duf
Zinada Base Body SSS.duf
Zinada Base Anatomical Elements SSS.duf
Ardasin !Base Body Translucency.duf
Ardasin !Base Anatomical Elements Translucency.duf
DE 30% Body Translucency.duf
DE 30% Anatomical Elements Translucency.duf
DE 55% Body Translucency.duf
DE 55% Anatomical Elements Translucency.duf
Zinada Base Body Translucency.duf
Zinada Base Anatomical Elements Translucency.duf
Zinada Character Base Materials
Zinada !Full.duf
Zinada Base Lips.duf
Zinada Base Torso.duf
Zinada Brow 1.duf
Zinada Brow 2.duf
Zinada Brow 3.duf
Zinada Brow None.duf
Zinada Anatomical Elements.duf
Textures Include
145 Texturemaps (.jpg, .png) for Base Color, Bump, Displacement, Emissive, Height, Glossiness, Normal, Reflection, Roughness, Specular, Transparency (512 x 512 to 4096 x 4096)
Daz Studio Iray Material Presets (.DUF)
Daz Studio Layered Image Material Presets (.DUF)
Notes
This product includes:
1 DSON Core Installer
---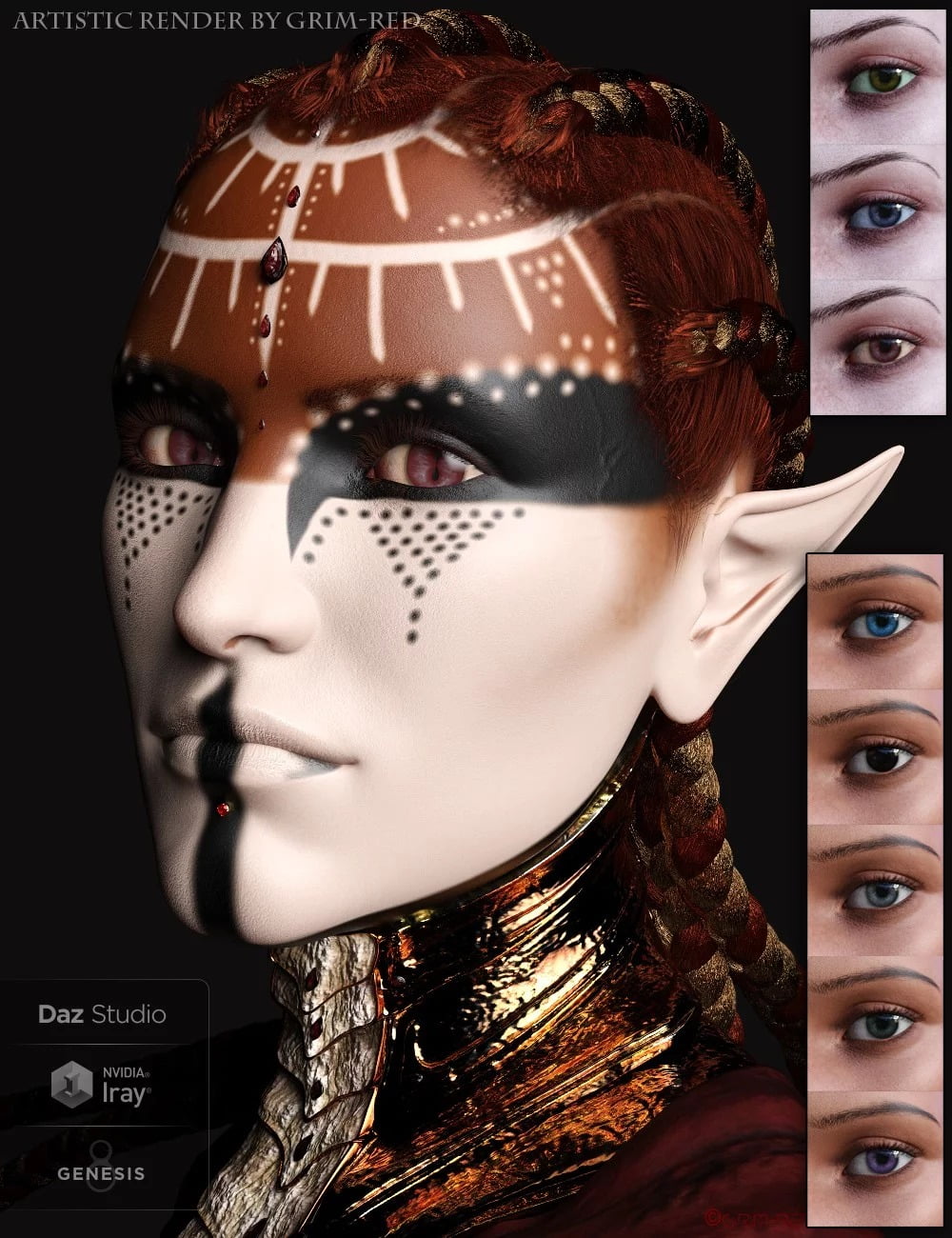 ---