Easy Modeling And Morphing With Blender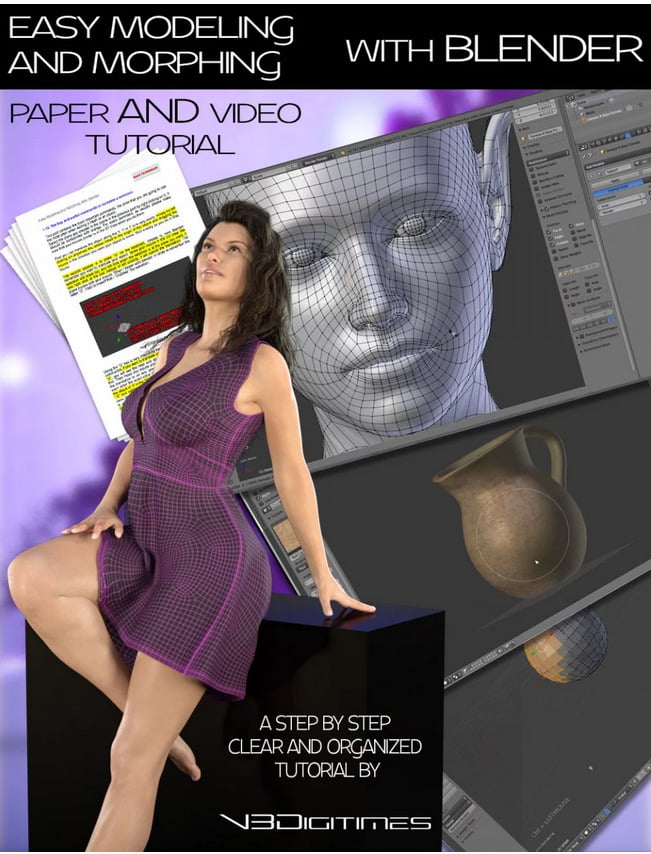 ---
Easy Modeling And Morphing With Blender
The purpose of Easy Modeling And Morphing With Blender is to turn any complete 3D beginner into someone who will be able to easily create and even texture his own models, and also to easily create morphs and modifications for already existing Daz Studio -or other – models, all this using in the free 3D application : Blender.
In order to provide the most efficient learning curve for everybody, the tutorial comes in two versions, a paper (pdf) version, and a set of eight video files. The paper version includes a summary which is completely both bookmarked and linked to the pages of the document. For the videos, a detailed table of content is included in the product, so that when you search for an information, you can find it in the blink of an eye the exact video and the exact time code for it.
Too often, people give up using Blender because they find it difficult to learn, probably because Blender can do so many things : modeling, texturing, rendering, animation, physics, particles, game engine… I learned Blender alone seven years ago, and I use it today to create all my content, and I can tell you this is a very easy to use and efficient 3D modeling software.
In this tutorial I not only share what I learned, but I also guide you precisely into the process of learning Blender in a methodic way, so that you progressively understand the key bases of this software, always focusing on what you need to create models and morphs for Daz Studio.
You will learn step by step how to customize and move in the interface, to move in the 3D View, to select objects and parts of mesh, to add or remove objects or parts of mesh, to edit and transform objects and selections in the meshes. Knowing all that, two examples of modeling of basic objects, and two examples of morphing figures will allow you to use once again all you learned, but will also introduce some new elements, such as UV unwrapping and texture painting. Of course the tutorial explains the import/export settings between Daz Studio and Blender, and how to save properly in Daz Studio the content created, prop or morph, for later use or for content sharing/selling.
You may simply want to complete a scene with an object which you cannot find on the market, or maybe create a unique character of your own by developing the morph you imagine for him or her. You may eventually want to adjust some outfits either in order to remove poke through or to provide to them an unequaled touch or realism. You may also like to go from simple 3D hobbyist to professional 3D content creator. Whatever the case you are in, you will find the all keys you need to reach your goal in these tutorials.
What's Included :
137 pages of Documentation (.PDF)
Summary
Installation, Interface, First Objects Manipulations
Base Commands To Create And Edit Meshes
Example Of Basic Modeling : Table
Example Of Basic Modeling : Objects with curvy shapes
Morphing Or Modifying Daz Studio Figures and Objects In Blender
Conclusion
The Detailed Table Of Content Of The Video Files (.PDF)
6 hours 15 minutes of Video Tutorial divided in 8 Videos (resolution 1920×1080)
Video 1 : Installation And Move In The 3D View
Duration 14 minutes
Download and Install
Zoom In Out, Rotate, Translate The View
Front/Back/Bottom/Top/Left/Right View
Middle Mouse Button and Numerical Pad Actions Summary
Video 2 : Interface Customization And Key Remapping
Duration 12 minutes
The Key Layouts
Interface Presentation and Customization
Key Remapping
Video 3 : Selection Tools / Add and Delete Objects or Parts of a Mesh
Duration 32 minutes
Object Mode Versus Edit Mode
Vertex, Edge, Face Selection Mode
All the Selection Tools
Add or Remove Elements in the Scene
The Snap Function
Import a Mesh
Join/Split/Duplicate
Extrusions
Video 4 : Base Transforms and Sculpt Tools
Duration 44 minutes
Scale, Translate, Rotate an Object In Object Mode
Proportional Editing Tool in Object Mode
Scale, Translate, Rotate a Selection in a Mesh
Activate Symmetry in a Mesh
Smoothing Parts of a Mesh and its Drawbacks
Shrink/Fatten a Selection in a Mesh
Activation Of Loops Tools and Relax Tool
Sculpt Mode and Multiresolution Modifier
Sculpt Tools
Video 5 : Your First Simple Model
Duration 1 hour 11 minutes
Prepare a Mesh for Symmetry
Use of the Mirror Modifier
Create your mesh
UV Unwrap the model (Add Seams/Unwrap)
Check the UV set
Scale and Export
Import and Save as a Prop in Daz Studio
Video 6 : Your Second More Complex Model
Duration 1 hour 31 minutes
Use Background Images For Reference
Extrude a Profile Of Edges
Spin a Selection around an Axis
Handle Double Vertices and Normal Orientation
Add Bevel to Sharp Border
Turn Tris Into Quads
Classical and Cylindrical UV Unwrapping
Paint the Texture Directly on the object
Export / Import In Daz Studio
Move And Apply the Painted Texture Map
Save Properly as a Prop in Your Content
Video 7 : Morphing a Base Figure
Duration 1 hour 05 minutes
Understand What is a Morph
Prepare the Scene and Figure For Export
Export Settings in Daz Studio
Import Settings in Blender
Rules to Respect to Create a Morph
Preview the Morph at High Resolution
Morphing Steps
Export Settings in Blender
Import as a Morph, Details about Morph Loader
Parameters Settings of a Morph
Splitting Head and Body Morphs and Saving Each Morph
Adjust Rigging to Shape and ERC Freeze the new Rigging
Video 8 : Morphing or Modifying an Outfit
Duration 47 Minutes
Prepare Scene and Outfit For Export
Import in Blender
Duplicate and Create a Test Morph
Remove poke through using Edit Tools and Sculpt Tools
Adjust the Shape to respect Gravity
Export Settings From Blender
Import as a Morph in Daz Studio
Modify the Mesh of the Outfit (No Morph)
Ripping Edges and Merging Vertices (No Morph)
Import outfit in Daz Studio (No Morph) And Save The Material Issue
---
---