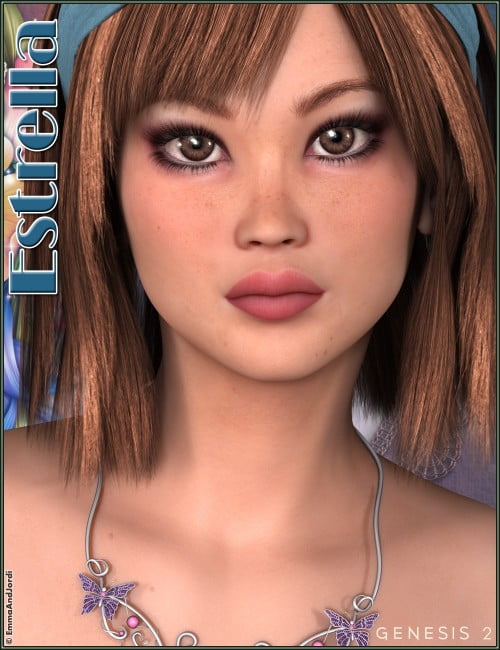 Includes a beautiful custom sculpted morph for the head, and also sculpted genitalia, elven ears, and a set of body painting, makeup, nails, and lashes that can look great together: mix and match them as you wish. All the morph options include Apply and Remove icons, and you also have the tools to set nails long or short on one click, and also to set nipples on and off for skintight/normal look on clothing.
In addition, you have options to apply body painting just in the chest, or just in the back, or in all the body, and a independent option to apply body painting in the right arm.
Also includes 10 eye colors (eight natural + two fantasy colors), six natural makeups, five fantasy makeups, seven eyelashes colors that will look great with the makeups, nine lip colors (natural and fantasy), and seven hands and feet nails colors that look great with the lip colors.
EJ Estrella for Genesis 2 Female (.DUF and .CR2)
1 Character Preset to Load the Full Character (Head+Body+Materials) for Poser and DAZ Studio
1 Custom Sculpted Head Morph Apply/Remove
1 Custom Sculpted Elf Ears Apply/Remove
1 Body Morph Apply/Remove
1 Custom Sculpted Genitalia Morph Apply/Remove
1 Nails Long/Short Apply/Remove
1 Nipples ON/OFF Apply/Remove
Body Options:
1 Full Body Base Material with clean skin
1 Full Body with body painting in torso, back, and right arm
1 Body painting in chest only
1 Body painting in back only
1 Body painting in right arm, to be combined with chest only, or back only, or used alone
10 Eyes Options:
8 Natural Eye Colors:
Brown
Blue
Bright Blue
Gray
Green
Light Green
Musk
Light Brown
2 Fantasy Eye Colors:
Pink
Purple
7 Eyelashes Options to mix and match with the makeups:
Blue
Dark
Pink
Purple
Turquoise
White
Yellow
9 Lips Options:
Coral Pinkl
Marooned Pink
Soft Orange
Tangerine
Dark Pink
Rose
Yellow With Star
Rose With Star
Blue With Star
6 Natural Makeup Options:
Bronze Shade
Aubergine
Purple
Blue Smoke
Green Musk
Violet
5 Fantasy Makeup Options:
Blue Stars
Yellow Stars
Rose Stars
Turquoise Stars
Star Dust
7 Hand and Feet Nails Options:
French Nails
Rose
Red
Blue Stars
Yellow Stars
Rose Stars
Turquoise Stars
Includes Lips, Makeup, and Nails to natural (no makeup) Resets
Textures Include:
1 Transparency Map (1000 x 1000)
10 Texture Maps (1500 x 1500)
2 Texture and Bump Maps (2000 x 2000)
2 Texture and Bump Maps (2048 x 2048)
43 Texture, Bump, Specular and Displacement Maps (4000 x 4000)
This product uses the Victoria 5 UV Maps
DAZ Studio Material Presets (.DUF)
Poser Custom Material Presets (.MC6 and .DUF)
Required Products: Genesis 2 Female(s) Morphs Bundle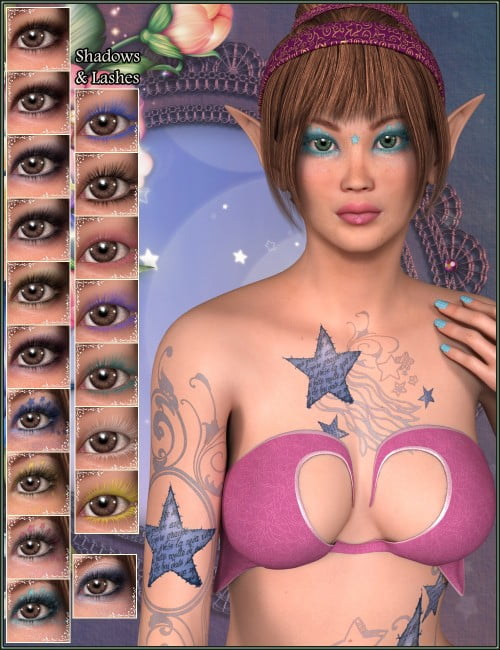 ---