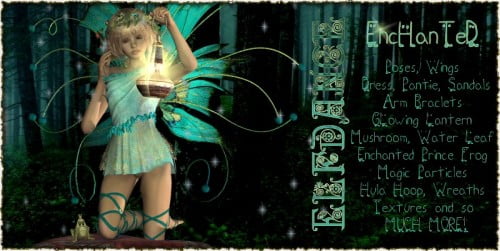 Your little Aiko will Enchant all in the Forest!
You get 19 Enchanting, Playful Poses and their Mirrored Version. That's 38 Poses in ALL!
13 Face Expression Poses.
A Beautiful conforming little Dress, matching Panties – complete with Elfish Sandals.
Delicate Detailed Arm Bands in 9 custom colors.
Mushroom Prop.
"Prince Charming" Toad.
Magic Particles in Sparkles, Glitter, Petals, Fae Dust and Rain Drops.
Glowing Lantern.
Hula Hoop, Butterfly Wreath for Hair 'N Hip.
Leaf Drippin' with water.
Delicate, Gorgeous Morphing wings with 26 adjustment dials and 19 Pre-Set Poses.
Complete with Bright, Enchanting Textures and MATs.
---