Embroidery & Strass – IRAY Shaders for DAZ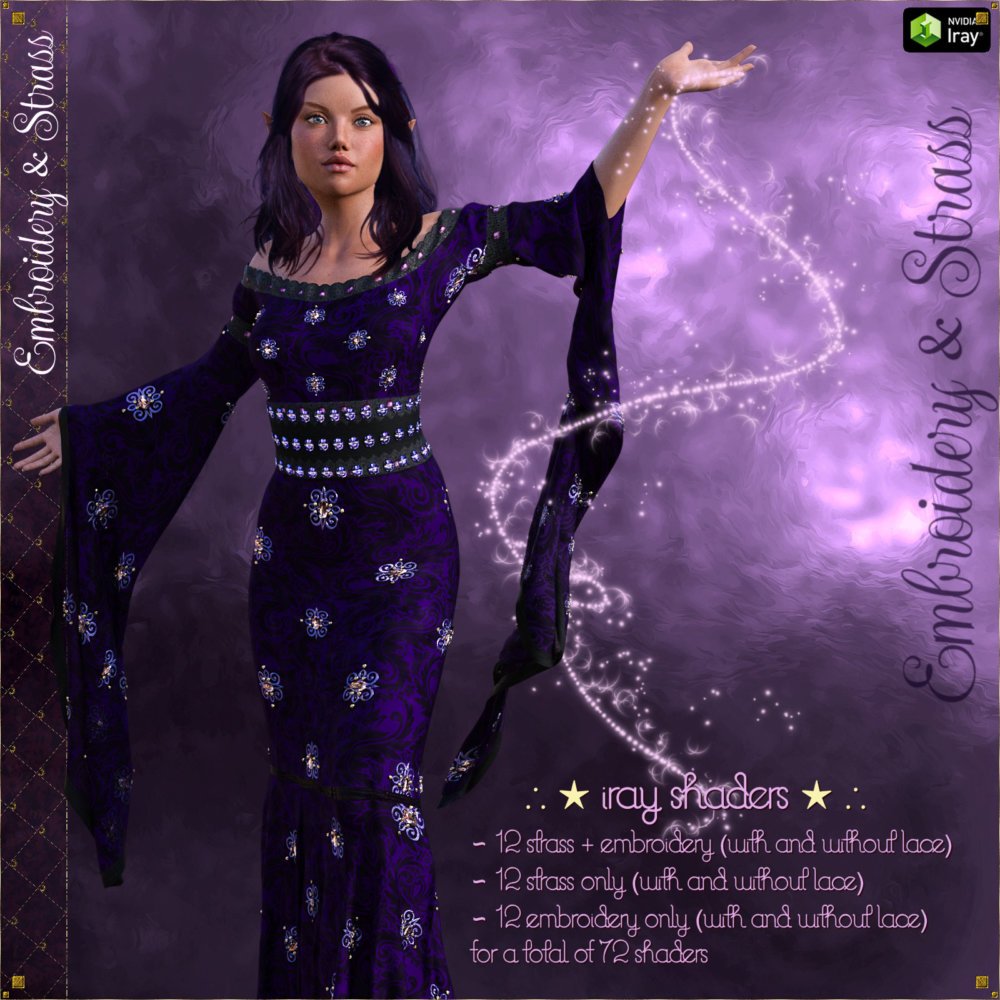 ---
Embroidery & Strass – IRAY Shaders for DAZ
Description
Editorial
Promo Credits
Gallery
More Items
Free Stuff
Reviews (0)
Strass & Embroidery – Shaders for DAZ Studio –
A versatil pack to add strass and/or embroidery and/or laces on your clothes, covers or any textile supply.
But also on glasses or whatever elements for add jewelry touch !
NOTE : these shaders will apply OVER your base texture without touching colors or maps already defined
This pack includes :
IRAY SHADERS
∽ 12 Strass + Embroidery (with and without lace)
∽ 12 Strass Only (with and without lace)
∽ 12 Embroidery Only (with and without lace)
For a total of 72 shaders
MULTIPLE TOOLS
∽ Embroidery colors : 12 colors presets
∽ Embroidery depth : 4 depths presets
∽ Strass colors : 12 colors presets
∽ Strass depth : 3 depths presets
∽ Independant scaling : 14 tilings presets, with and without lace (these tilling don't affect base textures' tile).
∽ Lace motifs: 08 laces patterns
DISPLAY OPTIONS
Strass + Embroidery
Strass only
Embroidery only
Lace option is made with L.I.E so you can adjust indepently :
∽ backg lace opacity
∽ lace pattern
∽ lace tiling : 3 tilings by patterns (50%, 100% and 200%)
MERCHANT RESSOURCE with CONDITIONS :
Vendors, you are welcome to use these shaders but you MUST follow these rules :
Don't use directly the shaders with seamless maps. You must recreate your own shader by using object/clothe's map.
For example, if a shader use 6 seamless maps, you must recreate 6 uniques maps, not seamless, correspondind to your product.
If it's not clear, don't hesitate to contact me.
Add a note on your read-me file product :
All of this product's content was created by VENDORNAME …. and include derivatives of the following merchant resources:
Cyriona's MY-PRODUCT-NAME + Renderosity PRODUCT-DIRECT-LINK
Fill in the name of my product in "Product Resources" when you upload yours.
PROMO CREDITS :
. Strass Make Up for G8 and G3 by Cyriona
. Caged Lanterns and Lamps for DAZ by Cyriona
. dForce Pandora Gown by PandyGirl & WildDesigns
. dForce Charice Gown for Genesis 8 Females by WildDesigns
. DC-Night and Day for DAZ G8 Female by Deecey
. Theory of Light – Energy Flow Iray Lights, HDRIs and Props by fabiana
. Linda Ponytail Hair for Genesis 3 and 8 Female(s) by Outoftouch
. MDD Annora for G3/V7 by Maddelirium
. 3DA Siobhan by 3-DArena
---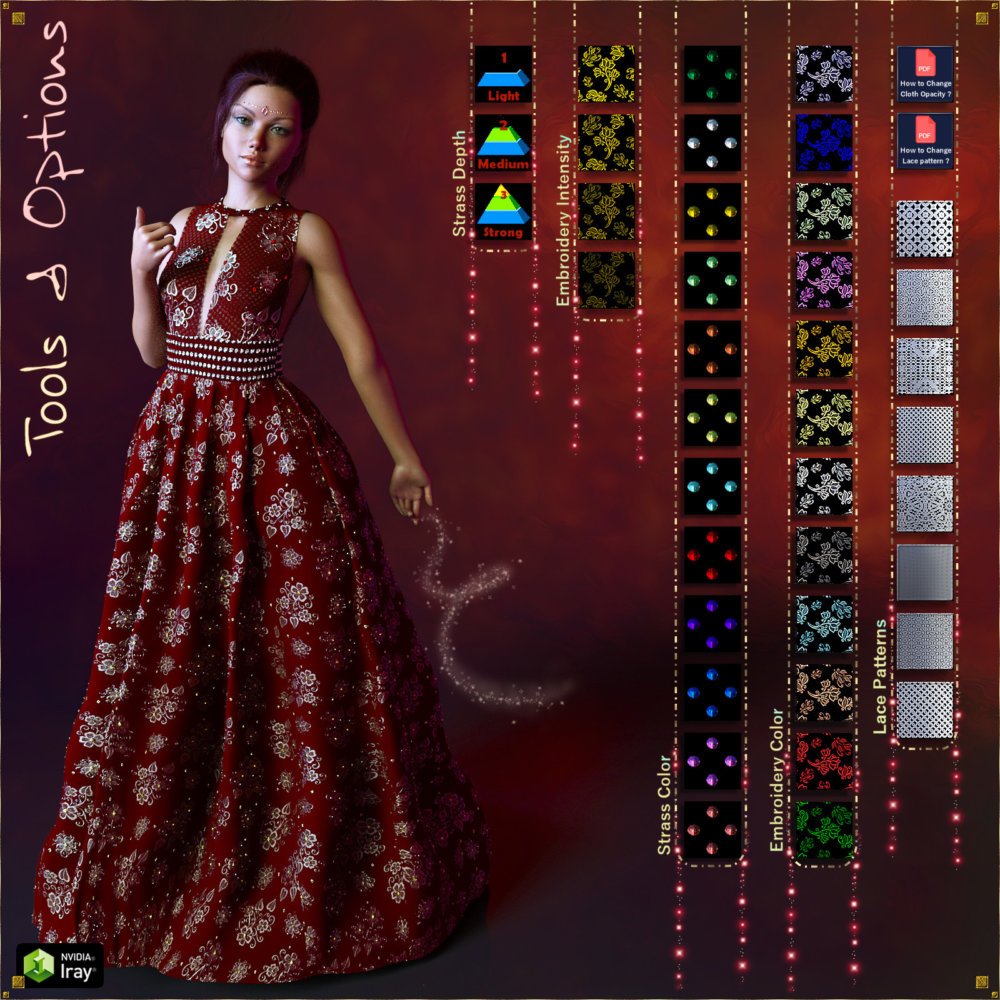 ---