EveryDay Poses: Walking for Genesis 3 Female(s)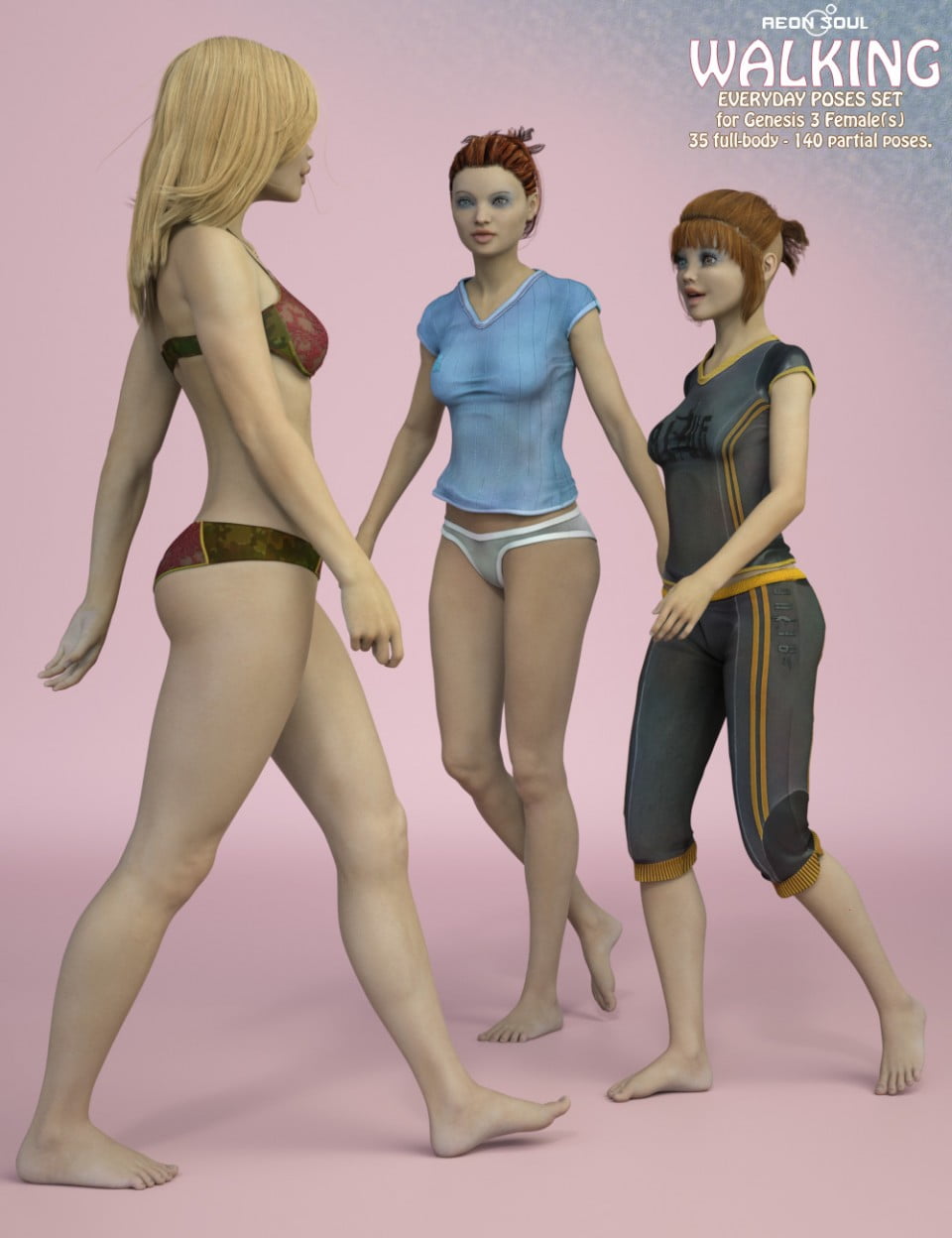 EveryDay Poses: Walking is an extensive and comprehensive package of walking poses that aims to offer a wide and varied range of walking poses for both foreground and background characters.
We decided to focus on walking poses only since a large variety of walks is crucial to creating a natural and lively scene and to give different characters their own peculiar style and personality.
In fact while walking comes to us naturally, each and everyone has their own unique way of doing it and with this package we want to offer a way to exploit all this diversity.
Great attention was paid to every detail: the shoulder, hip and neck position, the natural pose and action (or inaction) of the hands, the feet and toes position.
All poses were perfected from every angle, always working with front, back, left and right cameras on display and rotated all around for a balanced look at 360°.
They cover various walking styles and walking stages. Regular, more feminine or masculine, tired, sick, heavy, angry, light-hearted, sad, heavy-headed, exhausted, fluttery, dazed. Many different styles and situations are covered.
All poses were done completely from scratch, no dial already set, to achieve the most balanced, unique and natural look possible.
It's important to note that due to the more subtle and limited in scope nature of the poses, they mix and match egregiously thus offering a really wide range of possibilities straight out of the box and without any adjustment needed.
The poses were created on Genesis 3 and include some more specifically feminine steps, however most of them will work just as well and natural on male characters.
Also, since only a couple of them feature body interaction of the hands they work great on most characters without any need for adjusting.
Partial poses: make a world of difference!
If you ever used a pose package that includes partial poses, you know there is no turning back. The versatility and creativity partial poses offer is something we can't do without and it really helps spark the imagination.
Not to mention that from 35 basic poses, you'll actually get hundreds of possible combinations.
Walking partial poses include:
Top (from the Abdomen up)
Bottom (Hip and down)
Arms (from Collars to Fingers)
Legs (Thighs to Toes)
Explore, rotate, mix and match and enjoy!
This product includes:
1 DSON Core Installer

---