Expansion for V4 Cyber Suit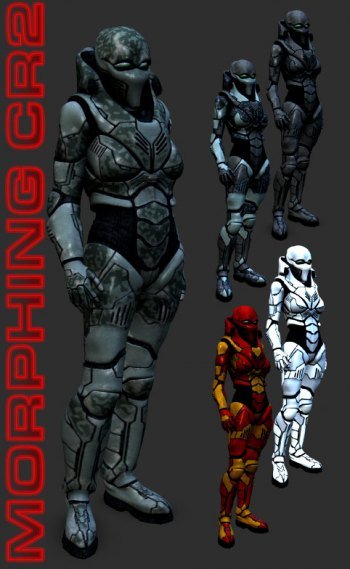 This Expansion set for the Victoria 4 Cyber Suit includes a Morphing Suit figure and 5 new texture sets.
The Morphing suit comes loaded with Many of Vicky 4's FBMs and many adjustment morphs. Here is a list of the 31 Full Body Morphs
included:
Amazon
Bodybuilder
Bulk
Young
Voluptuous
Thin
Fitness
Thighs Thickness
Shins Thickness
Calves Flex
Torso Thickness
Breasts Size
Breasts Large
Breasts Flatten
Breasts Diameter
Shoulders Thickness
Forearms Thickness
Biceps Flex
Arm Size
Lats Size
Inhale
Adjust Buttocks
Adjust Collars
Adjust Waist
Adjust Torso Up
Adjust Thighs
Adjust Shoulders
Adjust Shins
Adjust Neck
Adjust Hips
Adjust Forearms
Also included in this Expansion are 5 new textures for the suit and helmet.
These include the?following:
White
Red/Gold
Grey
Urban Camo
Worn Camo
A set of MAT poses is provided to apply all the textures as well as the default.
Product Requirements:?Cyber Suit for Victoria 4
---