Expressions for Aiko 3 Realistic
This set contains –
32 expressions for Aiko 3 Realistic. These expressions were built especially for the head morph "Realistic" dialed up to 1.0. They may need a little tweaking for different or other haracter settings.?
The expressions are: Amused, Angry, Bored, Childish, Cry, Cute Smile, Determined,?
Don't Wanna, Fake Smile, Fear, Grrr, Happy, Hmm, Kiss, Laugh, Nice Thoughts,?
Oou, Ouch, Pant, Puppy Eyes, Puzzled, Sad, Sceptic, Shhh, Sleep, Smile1, Smile2,?
Surprise, Unpleased, Wha'?, Wink, Yell.?
All expressions are loaded using fc2 files with the addition of 1 "Zeroed Expression" file, so that you can remove the expression at will.?
**Expressions will NOT affect your character morph!?
Also included 8 Partial Poses that affect the upper part of the body and were created especially for portraits.?
All poses have a Camera Setting to go with them. Extra 2 camera positions for the Face Camera are also included.?
**Please Notice! Poses and cameras are identical to the ones in my pack "Expressions for Aiko 3".
So, in short, here's what you get:
– 32 different expressions for Aiko 3 Realistic.
– 1 zeroed expression file.
– 8 partial poses (affect the upper body).
– 10 camera positions.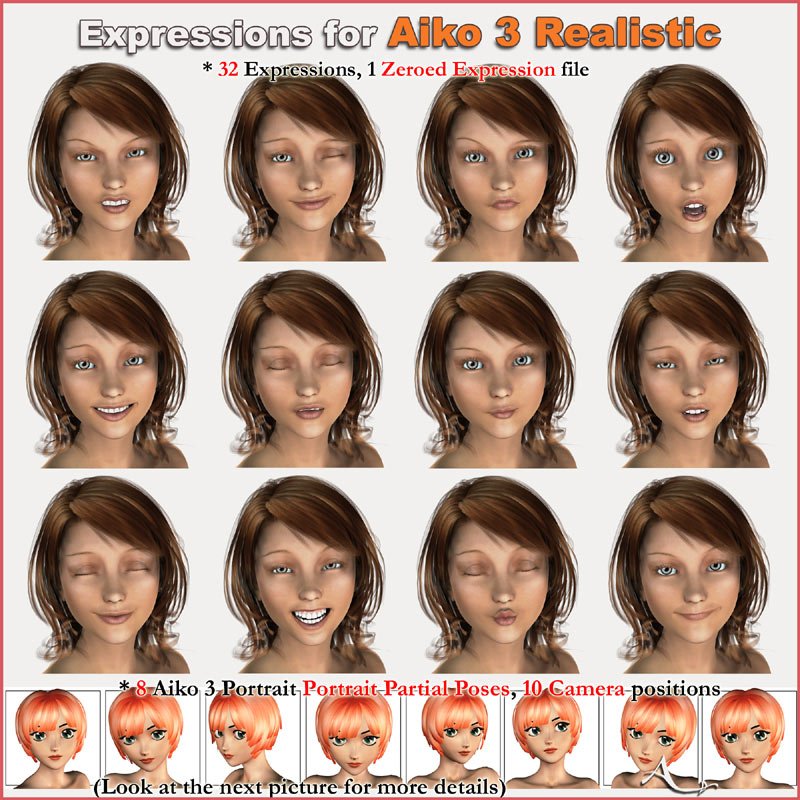 ---