Face To Face And Virtual Origins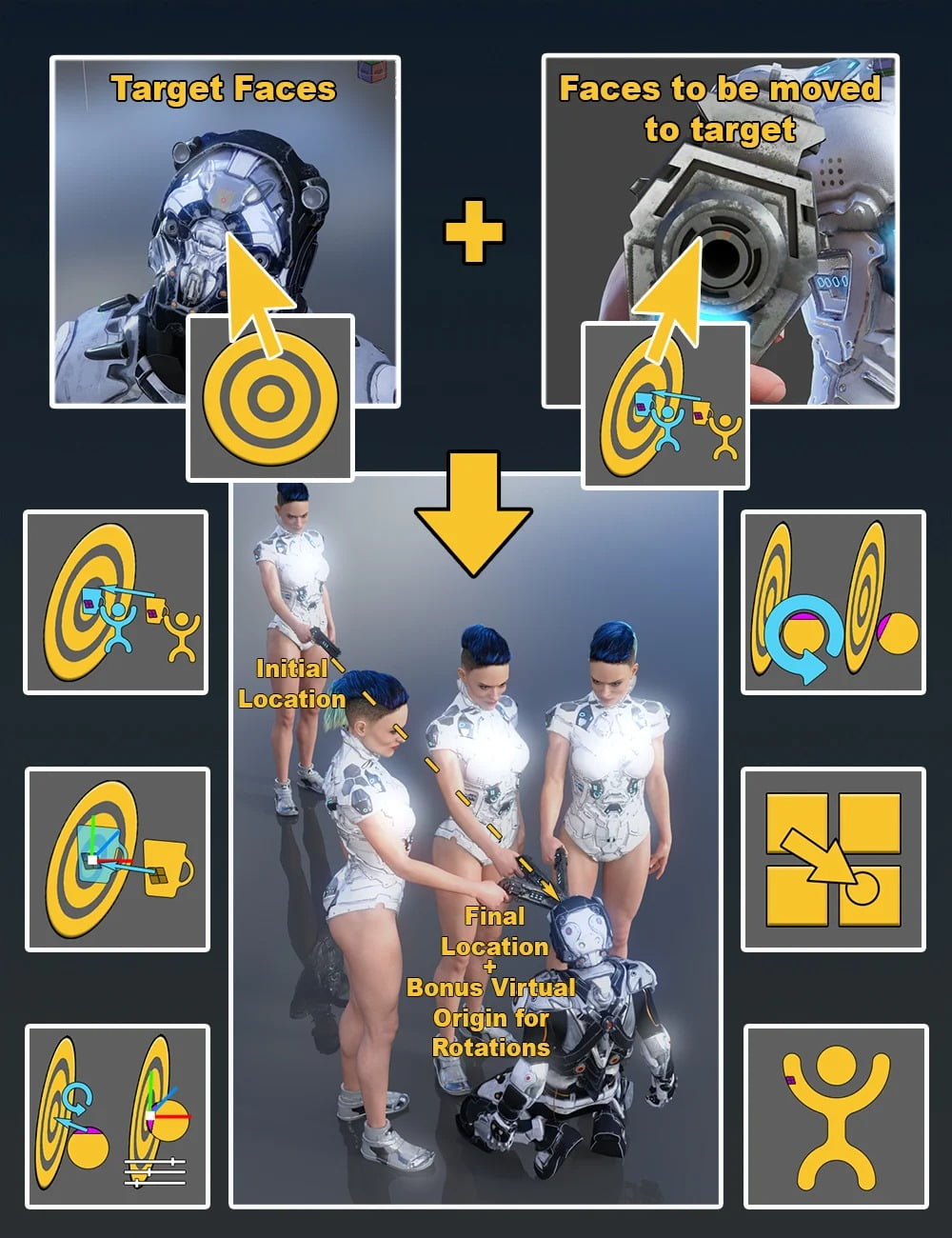 ---
Face To Face And Virtual Origins
Face to face and Virtual Origins is a set of tools allowing you to easily and automatically translate props or figures in your scene so that the exact faces you want on these nodes come in contact with the exact faces you want on another node, called the target faces, resulting in a "Face to Face" operation.
These nodes can also automatically be translated so that their selected faces can reach any location and any coordinates in your scene. There is no need to initially have a target mesh. The nodes can also automatically be rotated so that their selected faces are made parallel to the target faces, with or without any translation of the selected faces to the target faces. You can add as many targets as you want in the scene as they are invisible in render and the scripts will simply ask you which one you want to use for your transform.
You can apply these transforms in a single click, or you can opt for a more advanced interface where you can choose the proportions of translation along each axis and the proportion of rotation you want to apply. You can decide to apply 100% of the translation along Y, 50% along X, and 0% along Z, and only 20% of the final rotation.
Most of the scripts will add a Virtual Origin on the center of the selected faces of your mesh. Scripts are included so that those Virtual Origins can also be created at any time, independently from any translation and rotation process. In this case, you can choose between a world-oriented Virtual Origin, or a Virtual Origin perpendicular to your selected faces in order to work more easily in local coordinates. Virtual Origins are extremely useful when you need them and can be ignored the rest of the time.
Virtual Origins can behave as the new center of rotations of the objects they are created from and can also be used as the new center of rotations for anything else in the scene by a simple re-parenting operation. It means that when a Virtual Origin is added on the selected faces of a mesh, since it is centered on these faces, this mesh is now able to rotate around these specific faces, via the Virtual Origin. Of course, the mesh still remains rotatable around its own origin if you prefer. The Virtual Origin is a bonus origin, so use it when you need it, and forget about it the rest of the time.
If the figure for which you need to place specific faces of an object is in contact with specific faces (a sword, a glass…) of another object (a hand, a shelter…), and if you want to be sure that you can rotate this objects and that its faces will remain in contact, using the Virtual Origin will do the job for you since it is placed on the contact point of the target and mobile faces. And it will maintain this contact!
Full documentation is included, though this product rapidly becomes intuitive and easy to use.
Face to Face is an extremely powerful tool for scene setup, allowing you to automatically move objects so that their selected faces are in contact with the faces you want on other objects, or even allowing to place their selected faces at the exact coordinates you want with orientation options and bonus Virtual Origins. This will drastically improve your workflow as you place objects and figures relative to other objects and figures in the scene.
---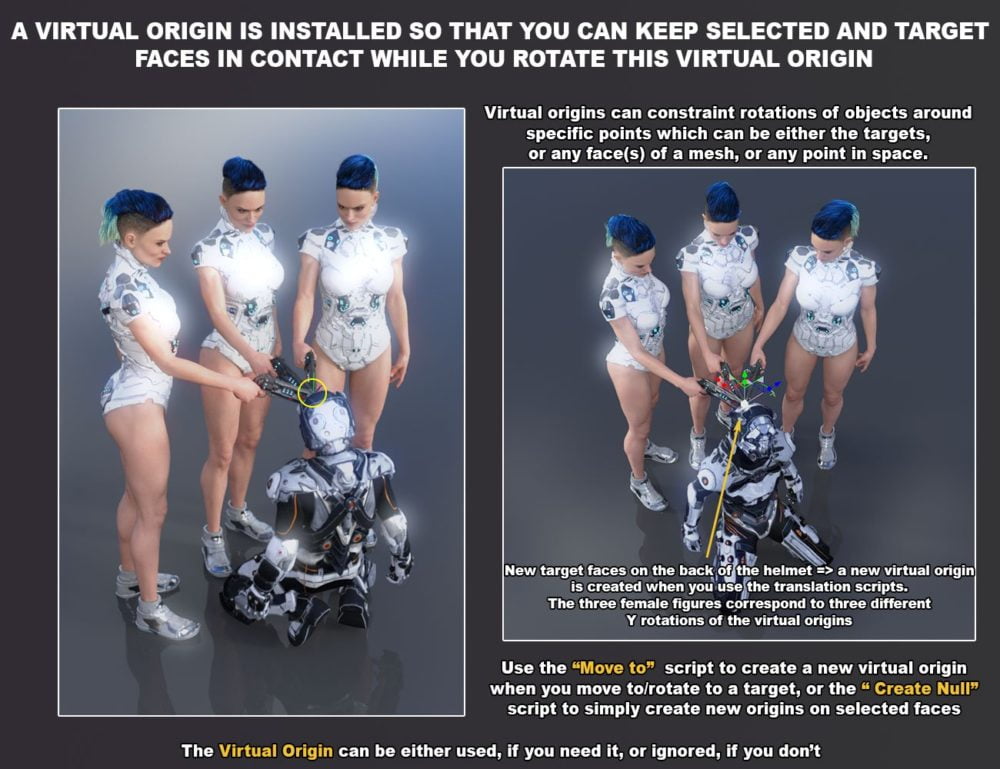 ---