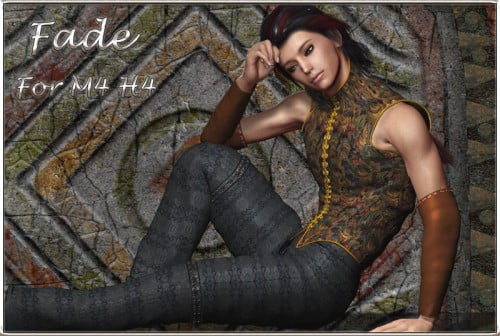 This super conforming outfit for M4 and H4 comes with 5 high resolution texture maps at 3000 x 3000 – HazelNut, Ice, Ink, Night and Royal. There are also additional sets of textures to change the trousers into shorts and to shorten the sleeves or turn them into arm bracers. Each figure has separate texture groups for the Cloth, Rings, Laces and Edges so the textures can be mixed and matched as you like.
Recommended texture add ons for Fade Unfaded by Wayii
MORPHS
All Figures
FULL BODY
Body Builder
Beer Belly
Bulk
Thin
Young
SuperHero
Jeremy
Hiro 4
Hiro Body
Hiro Realistic
Hiro Stylized
MAT POSE FILES
HazelNut
Ice
Ink
Night
Royal
TrousersShortHazelNut
TrousersShortIce
TrousersShortInk
TrousersShortNight
TrousersShortRoyal
SleeveTopHazelNut
SleeveTopIce
SleeveTopInk
SleeveTopNight
SleeveTopRoyal
SleeveBaseHazelNut
SleeveBaseIce
SleeveBaseInk
SleeveBaseNight
SleeveBaseRoyal
Top
UPPER TORSO
Inhale
Neck Thickness
ARM-HAND
Shoulder Thickness
Shoulder Massive
Arm Size
CHEST
Chest Sternum
Chest Small
Chest Size
Chest Massive
Chest Large
Chest Flatten
Chest Droop
Chest Diameter
Chest Built
LOWER TORSO
Thighs Thickness
Glute Size
Hip Size
Waist Width
Belly Thin
Belly Smooth
Belly Thickness
Stomach Depth
Torso Thickness
ADJUSTMENT MORPHS
Adjust Upper Torso
Adjust Arms Size
Adjust Waist
Adjust Neck
Trousers
LOWER TORSO
Waist Width
Torso Thickness
Stomach Depth
Hip Size
Hip Crest
Tummy Out
Belly Thin
Belly Thickness
Belly Smooth
GLUTE
Glute Size
Glute Raise L
Glute Raise R
LEG-FOOT
Thighs Thickness
Thighs Tone
Shins Thickness
Calves Flex
ADJUSTMENT MORPHS
Adjust Waist
Adjust Thighs
Adjust Hips
Adjust Buttocks
Adjust Shins
Sleeves
ARM-HAND
Arm Size
Shoulders Massive
Shoulders Thickness
Biceps Flex
Triceps Flex
Forearm Thickness
ADJUSTMENT MORPHS
Adjust Arms
Adjust Forearms
Adjust Shoulders
Adjust Collars
Products used in promotional images.
Character M4 : 'Hikaru' By Fu-minn
Character M4 : Nemed by Freja and Adiene
Hair : Cuffed Tail 2 by AprilYSH from Daz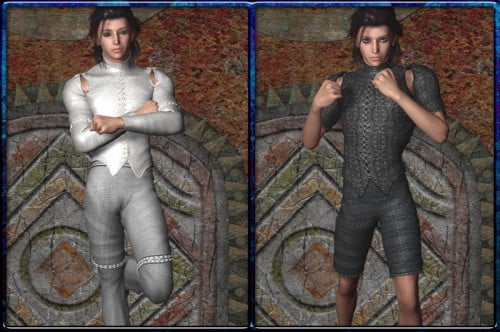 ---